Last updated on July 26th, 2022 at 04:20 pm
Are you embarking on your fitness journey?
Well, if you are in need of the best spin bike that enhances your physical life at the comfort of your home, you must know that options are unlimited when you enter the market.
Choosing from one of the best spin bikes under 500 is not easy, especially if it is your first time. First and foremost is that it is not necessary to get an expensive one to make the most out of it. You can find the best affordable, belt or magnetic spinner bike under 500 that works as well as any other alternative that is available in the market – if you know what to look for while making a purchase.
Things to consider before buying
Having a tough competition in the market it is hard to find the right spin bike when it comes to models, prices, performance, and durability. Along with the technical bits, personal preference plays an important role in choosing the right bike that suits your skill level from beginner to expert.
Looking for the key features can help you in choosing the right bike that perfectly fit your skills.
How much weight a bike is capable of handling depends on its construction.
Pick your bike as per your weight and the people that will be using the bike.
It is better to keep a margin when it comes to weight to enhance the versatility of the bike.
These bikes are made for a particular maximum weight limit. To get the most out of your bike, it is important to know how much of the weight your bike is capable of holding. It is advisable to get the one that supports more than your requirement for the safe side so that everyone in the house can make the best out of it.
There are two types of brakes when it comes to spin bike; magnetic and physical.
Magnetic brakes use a magnetic field to oppose the brakes.
Physical brakes use friction to oppose brakes, such as pushing brake pads against the flywheel.
Physical brakes are not as durable as magnetic brakes as they tend to tower out quicker.
Comparing the price factor, spin bikes with physical brakes are cheaper than magnetic ones, best for beginners.
Magnetic and physical resistance comes with their own pros and cons – what do you prefer and are comfortable with creates the whole difference when it comes to productivity. Convenience, and safety. Go for the one you are more confident handling.
Spin bikes use two types of drives when it comes to working; chain or belt.
Chain operated bikes are similar to outdoor bikes.
Belt operated bikes use belts that offers a smooth and consistent operation.
Belt operated bikes do not make any noise, whereas as chain operated bikes make noise when in operation.
There are chances that belts snap after a short period of time. Chain operated bikes are more durable when it comes to working.
It is not necessary that a belt drive works the best for everyone, even though belt operated bikes are more durable and efficient, every person has a personal preference. Go for the one that suits your requirement and not the one that most of the people like.
Display plays an important role in keeping track of your spin speed and the distance you have travelled.
Display for spin bikes works with batteries as these bikes are not electronic.
Some displays are touch operated while others are push buttons.
Touch displays are more responsive to the touch and are faster and convenient when you are on the go as compare to buttons.
Make sure to see durability and user-friendly interface while choosing the best spin bike under 500.
Whether you are a beginner or a professional exercise enthusiast make sure to have an efficient LCD display in your spinning bike to enhance your workout sessions and keep track of your speed and heart rate.
Keeping the portability feature in consideration, make sure the bike you are buying is light in weight.
It helps in moving your bike indoor and outdoor without excess effort.
Some of the spin bikes come with transportation wheels that help in moving the machine from one place to another with least effort.
No more dragging your heavy equipment everywhere ruining the floor.
Besides these technical bits, you must look for additional features in a best budget spin bike;
Handlebars design
Smartphone holder
Water bottle holder
Transportation wheels
Caged pedals
These features do not play a direct role in the performance and operation of a spin bike but comes to the rescue when we talk about convenience and comfort. Save yourself from running for water and do not miss your important calls while you are working out with a bike that comes with these additional features like phone and bottle holders.
Not necessarily you need to have all of these features in affordable spin bikes. Choosing the ones that perfectly fits your needs and requirements is a wise choice to make.
Top 5 spin bikes under 500
If you are still not sure which one to go for, we have gathered the best spin bikes under 500 that offers the best price without compromising the quality and performance of the bike.
1. YOSUDA Cycling Bike – The best selling bike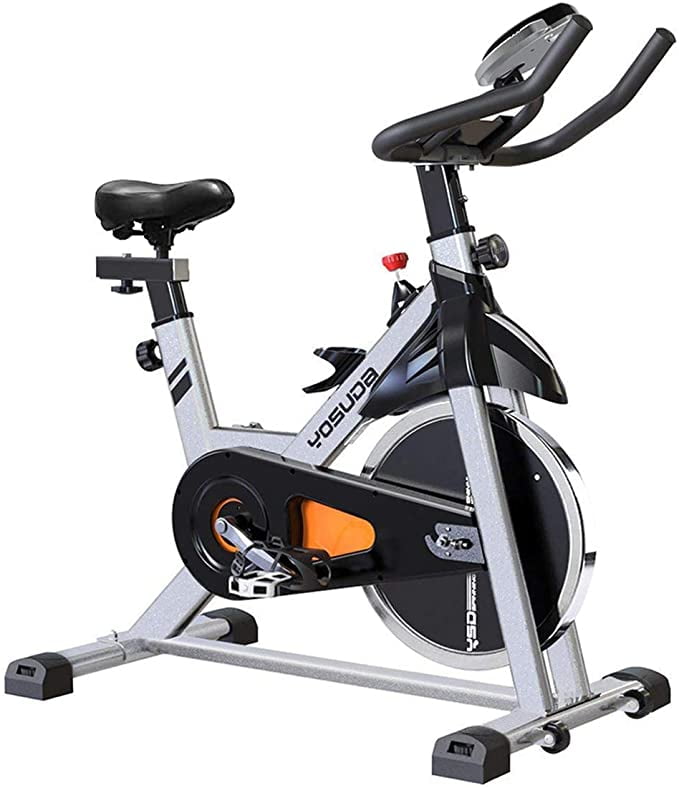 YoSuDa offers one of the best magnetic resistance spin bikes because of its incredible build and aerodynamic design. If offers a sturdy construction that eliminates bouncing and wobbling at any speed as its heavy-duty steel frame provide stability. Like YoSuDa, spin bikes with monitors helps in getting real-time analytics. It does not take too much of space at your place because of its compact design along with a lightweight that makes it easier to move around as per your convenience.
Features
Material: carbon steel
Maximum user weight: 265 lbs
Flywheel: 40 lbs
Type: Belt drive
2. FDW Spin Cycling Bike – The best budget bike
This top spinning bike is the best for indoor home workout eliminating the need to go to the gym or spending too much on other types of equipment that are not efficient enough. From its durable construction to high-end performance it is the best cheap spin bike for the price that does not compromise on the quality. Besides performance, it offers the best support when it comes to keeping your essentials on the go like a water bottle or phone.
Keeping the comfort at hand, FDW offers comfortable, adjustable, padded seats along with handlebars and resistance that makes it easier to make adjustments as per your need and requirement.
Features
Material: Metal, PU, Foam
Maximum user weight: 220 lbs
Flywheel: 22 lbs
Type: Belt drive
3. Sunny Health & Fitness Indoor Cycling Bike – The best overall bike
Take your home cycling experience to the next level with Sunny Health & Fitness spin bike. Offering quiet cycling with its high-end belt drive it makes your workout session more peaceful. Its amazing design provides the best construction and exceptional flywheel for a smoother ride.
Requiring the least maintenance this spinning bike gives you the best workout sessions for a lifetime, levelling up your workout game to the next level.
Features
Material:
Maximum user weight: 265 lbs
Flywheel: 40 lbs
Type: Belt drive
4. PYHIGH Indoor Cycling Bike – The best high-performance bike
Your workout session must be relaxing yet energetic than tiresome handling non-professional cheap equipment. This spin bike for home workout sessions offers convenient controls with high-end performance and least assembling and maintenance. From its LCD display to durable construction, best adjustable seats, handles, and resistance you get promising performance at the best price as compared to other alternatives that are available in the market.
Features
Material: Steel
Maximum user weight: 280 lbs
Flywheel: 35 lbs
Type: Belt drive
5. SYRINX spin bike – The best bidirectional flywheel bike
SYRINX indoor spinning bike comes with the best bidirectional flywheel unlike most of the spin bikes under 500. It offers additional momentum that offers tough workouts increasing your efficiency. Meeting convenience with safety it provides users with emergency brakes that come really handy in real life. Track your workout routine with LCS monitor and adds up to your comfort with bottle and phone holder.
Coming to the design it has adjustable seat and handles that can be adjusted as per your need. Do not miss out on this one because its durable and sturdy construction will not disappoint you in a long time.
Features
Material: Stainless steel
Maximum user weight: 330 lbs
Flywheel: 35 lbs
Type: Belt drive
Conclusion
Finding the right bike is all about personal preference along with spinning bike reviews or flywheel bike reviews that really comes handy in getting to know how well it works in real-time. Our top-rated spinning bikes are one of their kind under 500 that does not compromise the quality despite the price. Setting your spin bike cost narrows down your search saving time and energy.
Pyhigh indoor cycling bike is one of the best cycling bikes when it comes to home cycling bike as it offers the best performance at the best price. If you are looking for more productivity for your money then Sunny health & fitness is the best spinning bikes for home use. Always make sure to understand your needs and requirements along with key features to get the most out of your money.
FAQs
1. Are cheap spin bikes worth it?
There is no need to get an expensive bike while there are a lot of the best spin bikes under 500 that offers the best performance, operation, and durability. We have mentioned average and cheap spinner bikes that are one of their kind from the material to performance, quality, versatility, and durability for everyone.
2. Is it worth investing in a spin bike?
Totally! We would recommend you investing in the best spinning exercise bike as they offer numerous benefits over alternative types of equipment and ways to stay fit, such as;
Quiet spin bikes offer calm and peaceful cardio as compared to other alternatives.
It requires the lowest maintenance than all other cardio pieces.
It offers a lifetime of exercise with the least maintenance.
Perfect to stay active in every kind of weather all year.
Saves time and money joining gyms.
3. What makes any spin bike the best?
All over convenience, the best home cycling bike must offer highly adaptable to various news and requirements, such as;
Adjustable seats and handles
Adjustable resistance
Variable weight capacity
Must suit various heights
Is easy to maintain and store
Compact yet high-performance
4. What is the best spin bike for a home?
When it comes to performance and durability at the best price, these are some of the cheap best spinning bikes;
YOSUDA Indoor Cycling Bike Stationary
Sunny health & fitness spinning bike
PYHIGH Indoor Cycling Bike
5. How long does it take to see results from a spinning bike?
Spinning bikes are not specifically for weight loss, but for overall health from physical activity to mental health. With a proper working out for more than a month you can see a significant difference in your overall mode and self-esteem.