Last updated on November 2nd, 2022 at 10:27 am
PFD (the personal flotation device) is compulsory and must be approved by the coast guard. In case you are going for wakeboard surfing, make sure you are wearing the right life west as the wake boarding life vest provides impact protection with the right buoyant.
It becomes difficult to know which is the right wakeboard impact vest when all of them looks the same. During the research, Life Vest Neck Safety fulfilled all the requirements to be our editor's pick.
Further in this article, for our readers, we have managed to assemble the relevant information for the best wakeboard life vest guide. 
How to select a wakeboard life jacket?
As a wakeboard life jacket is a is a compulsory for any kind of water sport so there are some requirements such as
Size
The key to any kind of life jacket is if it is of the right size. It depends upon the size of the chest. The vest should be able to fit the snug and should be capable of stretching till 2 to 3 inches.

It should cover the body from the shoulders to your abdominal area. Make sure it should not be too tight either as it could cause difficulty in swimming. Cross-check the size because every manufacture has a different size.
Tip to check the right size: If you can fit more than 3 fingers in the width of your jacket's shoulders, then it is not a right fit for you.
Buoyant
A buoyant helps to keep you floating in liquids or gas. You can also refer it to as the upthrust. In the liquid (water), the minimum amount of buoyant ranges from 15.5 lbs to 22 lbs. A human body on average requires around 7 to 12 extra pounds of buoyant to float on the water surface.
Material
The materials for the wake boarding life vest include polyester, hybrid, neoprene, and nylon. Such materials make the top rated wakeboarding life jacket durable and sturdy.
Neoprene fits more comfortably when it is dry and expands when it is wet. It is able to be stretched up 2 to 3 inches when zip up. When your neoprene vest zip-ups easily; the vest is big.
A nylon vest usually is one that is fixed with the help of buckles and does not overlap.
The hybrid life vests are made with a combination of different materials usually with the closed cells of marine foam and neoprene. These jackets are lighter in weight and have the ability to get dry than the conventional ones.
Style
The wakeboard life jackets are either zipped or buckled, both possess different qualities. Which one do you want is based upon totally on personal preference. Some of the zipped wake boarding life vests have the buckles for quick release but usually, there are one or two for ultimate protection.

Make sure you have checked the armholes before getting your life vest as they must be widely opened so the arms can move freely. Such open-sided wakeboard vests are the best but they offer less support than the other jackets.
Types of Personal flotation Devices
Personal flotation devices are mostly referred to as PFDs or lifejackets. It is necessary to wear a lifeguard for every water-based sport by the US coast guards even if you are even in for the boating. Before getting in, make sure your PFD is
The right type according to your sport and location.

It must be a perfect size and is capable to support you by having enough buoyancy.

The PFD is approved by the US Coast Guards.
The life jackets are classified into 5 categories
Type I: Offshore life jacket
Type II: Near shore Buoyant Life jacket
Type III: Flotation Aid
Type IV: Device
Type V: Special use device
Every type has its own classification, advantages and disadvantages
Jacket Type

Best for
Disadvantages

Weight Range

Type I

All waters where there is a delay

Large size, difficult for swimming, turns face upwards

22lbs. Adults

11 lbs. Kids

Type II

In land water

Face would not be turned up

15 ½ lbs. Adults

11 lbs. 7 lbs. Kids & infants

Type III

Calm and in land water

Cannot turn the face upward of unconscious person

As mentioned above for Type II

Type IV

Where help is easily available

Used in water with the heavy boats

Throw and grasp technique is used

Type V

Approval condition required

Designed for cool weather conditions; still requires approval

Some of them provides hypothermia protection
Top 6 Best Wake Boarding Life Vest
1. Life Vest Neck Safety
Specifications
Polyester and foam fabric
554g product weight
Super wide
Padded collar
Support maximum weight 209 pounds
Adjustable straps
Whistles
Reflective piping
Open-sided design
Elastic bands
The life vest with neck safety jacket is an ideal jacket with a unique look and features. Its waterproof polyester exterior makes it strong and foam-filled in the interior provides comfort. It supports people weighing 95 kgs or less.
It is featured with a wide padded collar to support neck and head. It is free size and its adjustable straps are perfect for a snug fit. The whistle is attached for any emergency situation.
This wakeboard impact vest is featured with reflective piping for safety and higher visibility in dark. It is lightweight and easy to carry. Its open-sided design makes it easy to wear. This life jacket is ideal for water sports like swimming, boating, sailing etc.
Pros
More breathable
Adjustable straps
Reflective piping
Cons
2. Adults Life Jacket Neoprene
Specifications
Neoprene outer fabric
Floating foam filler
Side zip closure
2 adjustable belts
A Neoprene safety life jacket is one of the best life jackets. Waterproof neoprene exterior makes it durable and floating foam filler makes it even more comfortable. It comes in various sizes with zip closure that is well stitched and secure for all ages. It is also featured with 2 adjustable belts which can make a person easily fit and feel secure.
With outstanding features, this life jacket is also stylish and attractive. This women wakeboard life jacket lightweight life jacket mesh on back and shoulders keeps you cool in scorching summer.
As it is available in many different sizes, people of all ages can consider buying it. Its excellent material ensures its long life span. It is an ideal vest for water sports like boating, surfing, sailing etc.
Pros
Durable
Different sizes available
Side zip closure
Well stitched
Cons
3. Water Sport Life Jacket
Specifications
Oxford exterior fabric
EPE floating foam interior
3 easy buckles
2 legs strap
Shoulder reflectors
Wide arm holes
Adjustable strap
Emergency whistle
370-610g product weight
Different sizes
Water Sports Life Jacket Flotation Device Life Vest is designed with oxford exterior fabric and inner filled with EPE floating foam.
It is well stitched and is able to carry weight from 40 to 110 kg. Shoulder reflectors have prefixed its style and security. Reflector will be visible in the dark and at night. Whistle is attached to show where in an emergency situation.
This life jacket is contracted with large, wide arm holes which make it easy to wear and adjustable straps makes it fit to hold on the body. It comes in different sizes so the weight of the product also varies.
To increase the fitting and ensure security 3 buckles and 2 legs straps have added. This women wakeboard life jacket is one of the best jackets for water sports like boating, surfing, fishing, kayaking etc.
Pros
Many adjustable straps for secure fit
Shoulder reflectors
Useable for heavy weights
Available in different sizes
Cons
4. Adjustable life Jacket (Multi-purpose)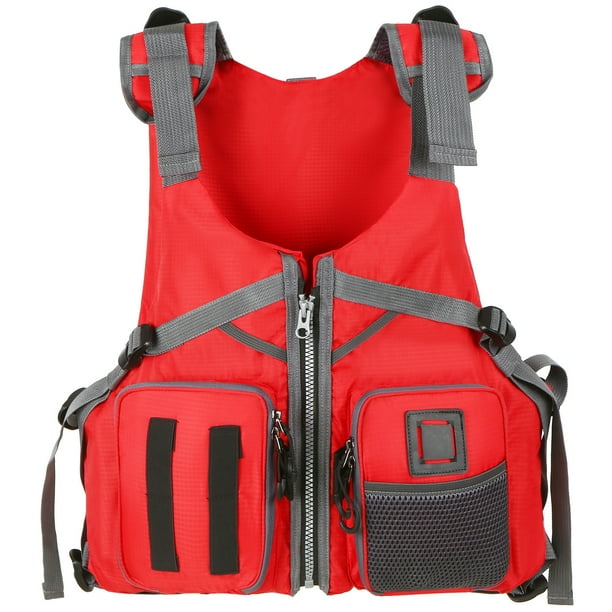 Specifications
Polyester material
Tear-resistant
Wear-resistant
Adjustable shoulder
Waist strap
Detachable back
Chest sponge pads
2 front and 1 back pockets
Suspension system
Attachment loops
Fine stitching
480g product weight
Adjustable fishing life-saving jacket
Fishing lifesaving jacket safety has made it to the spotlight because of its outstanding production. It is made of high-quality polyester. Minor cuts and hooks cannot damage or tear it. Detachable back and chest sponge pads are the striking features that make it easy to clean and provides much comfort.
Another distinct feature that makes it different from others is that it comprises pockets, a suspension system,s and attachment loops. You can carry most of your gear along with you.
It has fine stitching; with sportsman spirit, you can ensure its very long life span. It is super adjustable and can be adjusted according to the figure for security. This jacket is easy to carry and budget-friendly with amazing features.
Pros
Durable
Soft and comfortable
Easy to clean
Budget friendly
Cons
Some people face size issue
5. Life Vest with Whistle Boating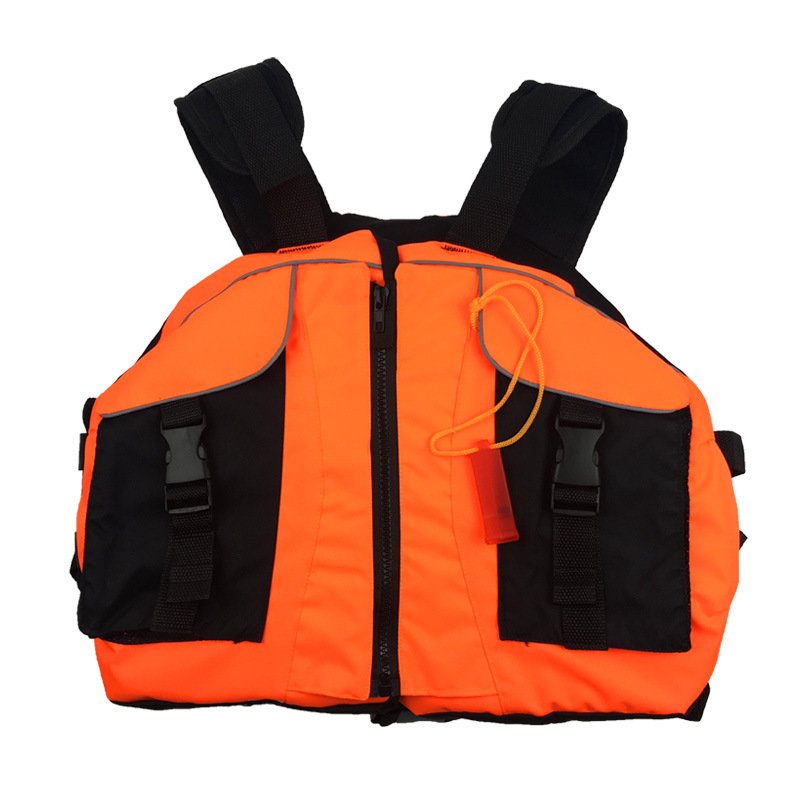 Specifications
Adjustable size
Lightweight
Emergency whistle
Waterproof oxford cloth exterior
EPE pearl cotton interior
Reflective binding
Suitable for 50 to 100 kg
Different colors available
580g product weight
It is one of the best vests to do water sports and fishing. It is lightweight and does not become a hurdle or give irritating feelings while playing. Super adjustable and can be used for people of all ages. This lightweight jacket carries a whistle to call for help in an emergency situation. Reflective binding has become an important feature to get noticed from far and will be visible in dark to ensure security.
Not many other vests, but this vest comes in different colors. Buyers can choose the color according to their choice. Waterproof oxford cloth exterior and EPE pearl cotton filling interior make it durable and comfortable. Although it is lightweight, it is suitable for people up to 100kgs. It is ideal for fishing, surfing, boating etc.
Pros
Strong and durable
Large shoulder holes
Reflective binding
Lightweight
Available in different colors
Cons
6. Foldable Dog Life Jacket Inflatable
Specifications
Nylon, polyester and PVC material
Portable
Collapsible
Bright fluorescent color
Reflectors
240-410g weight
Different sizes
Foldable inflatable dog life jacket is a full coverage life jacket for dogs. It comes in a variety of shapes and sizes allowing you to choose the best that fits. It is stitched by using the best material to ensure the safety of the dog. It is made of nylon, polyester and PVC waterproof material. It is more durable and dries quickly.
This life vest of a dog usually comes in a bright fluorescent green color whose reflection will make it easy for you to keep an eye on the dog in the dark and ensure security. Portable and collapsible features make it easy to carry on your short or long journey. When it is in no use, air can be expelled out and the jacket can be ported in a bag. As it comes in different sizes so the weight of the product also varies. This jacket gives the dog a comfortable feeling and helps it swim easily and safely.
Pros
Exceptional floating
No loose ends
Secure fit
Cons
A little stiff
Less breathable
Requirements of the Life Jackets
Make sure your wake boarding life jacket is fulfilling the requirements
Must fit properly with appropriate size

They must be coast guards approved

Life jackets must be serviceable

Children must be wearing the approved size jackets as well
Inflatable life jacket and standard life jacket
The inflated life jacket is an alternative to the conventional life jacket. Such jackets are light in weight and smaller in size. They are available in different styles mostly attached with the suspenders but, such are jackets are not approved to be used for people who are under 16.
Whereas, the standard life jackets fall in the category of type III of life jackets which are the traditional ones.
In the end…
Wakesurf boarding though looks dangerous but in reality, it is fun. Do not forget about your safety as in this article we have provided enough information that will help you to get the right size of your top rated wakeboarding life jacket. 
FAQs
How a wake boarding life jacket is made?
The interior of the best wakeboarding life jackets is classified into three categories, inflatable, inherently buoyant and hybrid. Plastic foam is being used in inherently buoyant life jackets such as polyvinyl chloride or polyethylene.
The inflatable ones are that are filled with air or the cartridges of carbon dioxide gas which is activated in different forms.
Is it worth buying a wakeboard life jacket?
Whatever the sport is, a life jacket is a must as it provides impact protection and buoyancy likewise. Like every other life jacket, wakeboard life jacket is sturdy and protects your body against the high speed of the water. The key to such life jackets is that it provides protection in the segments.
If I fall will the life jacket keep me floating?
If you fall while wakeboarding, this life jacket will help you to keep on floating on the water surface. Such life jackets work about buoyant but the type of the wakeboard life jacket's whether type III or V that will keep your face downwards.
 What is the difference between the wakeboard life jacket and the jet skiing jacket?
The main difference between wakeboard jackets and jet skiing jackets is simple. The wakeboard jackets are bulkier and offer impact protection but they look similar.
For more related reviews: Bestrecheck.com
Data Retrieved from
Boaterexam.com: https://www.boaterexam.com/boating-resources/personal-flotation-device-types.aspx
Boatus.org: https://www.boatus.org/life-jackets/types/
Boat-ed.com: https://www.boat-ed.com/florida/studyGuide/Inflatable-Life-Jackets/10101002_36332/#:~:text=The%20inflatable%20life%20jackets%20are,like%20a%20small%20fanny%20pack.