If you are planning to upgrade your kitchen or starting your cooking journey as a professional, begin with our list of the best modern minimal kitchen tools and accessories. From cookware to utensil, equipment, tools, appliances, and much more, this guide will give you a tour of the best minimal accessories that can add value and a pleasing outlook to your kitchen. 
With the changing lifestyles and busy schedules, everyone wants tools that are not just functional but are multi-purpose, saving as much space as possible without compromising one's performance in the kitchen either it is about prepping your meals, baking, or post-cooking cleanup. 
It's a snitch!
Modern Minimal Kitchen Essentials Checklist
To make it easier for you we have categorised all the Modern Minimal Kitchen equipment as per the basic usage. 
Cooking Tools & Kitchen Utensils

Appliances 

Utensils 
Let's dig more into the minimal kitchen setup essential to upgrade your cooking to the next level.
Modern Minimal Kitchen Cooking Tools Utensils
Having the right tools and equipment will save you time along with the effort that is required to prepare food before cooking. 
Chef's Knife
If you have been using a cheap chef's knife, switching to a high-end chef's knife can change your whole perspective about cutting, chopping, and dicing or slicing. A good chef's knife offer;
Give control over slicing and chopping

Easier to control blade movement

Reduces the risk of injuries

Easy to sharpen
J.A. HENCKELS INTERNATIONAL CLASSIC Knife will not disappoint you when it comes to cutting, slicing, dicing, or even working with the meat. 
Cutting Board
The most basic, yet the most useful tool for every kitchen. Cutting boards come in different materials from wood to steel, plastic, and marble. OXO good grips cutting board is an efficient kitchen tool, made from high-quality food-grade material, durable, and easy to use and clean.  
It is used for every meal preparation; quality and durability matters.

The cutting board must be dishwasher safe.

Odour-resistant polypropylene is long-lasting as compared to other alternatives.
To make your cooking fun and customized, here are some unique cutting board ideas.
Measuring Cups
Having precise measurements is essential to get the desired end results while cooking or baking either liquid or solids. 
One-piece stainless steel construction offers ultimate hygiene and durability.

Thin profile, pouring lip, and nesting eliminate the frustration that comes with measuring cups.

Stackable cups help save space. 
Norpro Grip-Ez Stainless Steel Measuring Cups come in various sizes that are essential for every kind of measurement from solid to liquids for cooking and baking.
Mixing Bowls
Salads, dressings, marinades, sauces, spice rubs, fruits, and leftover – mixing bowls are essential for every household. Go for microwave-safe mixing bowls with airtight lids to keep your food fresh for a longer period of time. 
Colander
Washing fruits and vegetables, draining pasta, salad greens, and any other draining or washing jobs are not a chore anymore with a colander for your minimalist kitchen essentials. A well designed, ergonomic and non-slip colander like OXO Good Grips 5-Quart Stainless-Steel Colander with durable construction can last you a lifetime.
Peeler 
To speed up your meal preparation, a peeler is a lifesaver, whether you are dealing with fruits or vegetables. A high-quality peeler with a simple design and sturdy construction will save you not just time but also offers protection from injuries. You will not regret getting  Pirahna "Y-Peeler" from Kuhn Rikon because of its lifelong performance. 
Whisk
It is also one of the most used items in the kitchen. The wise choice is to get the one that is ergonomically made, that perfectly fits in the hand and is also suitable for everything from mixing and whisking, such as, salad dressing, eggs, desserts, sauces, and much more. Look out for OXO Good Grips 9-Inch Whisk, if you want to make your cooking convenient.
Salad Spinner
Every minimalist kitchen needs to have a salad spinner to have a crisp, fresh salad on the go or as a side for your meals. Besides a good salad, an efficient salad spinner that is easy to operate and clean, featuring a brake and locking mechanism for convenient storage can be your bestfriend. 
OXO Good Grips Salad Spinner offers a multi-functional ergonomic design. You can use the strainer for draining and the bowl for serving. 
Grater
A minimal kitchen set must include multi-functional tools that take less space. There is no doubt that a grater is every kitchen's must-have. 7-in-1 box grater from Cuisipro is one fine grated with 7 variable grating options. You can easily go from slicing to grating and shaving.
Citrus Juicer
At times, the simplest of the tasks create the most hassle. Every struggled with squeezing a lemon or lime? Well, that's what we are talking about. No more wrestling with citrus with Prepworks by Progressive Dome Manual Citrus Juicer. It offers printed measurements so that you know how much you need. No more waste.
Stainless Steel Skillet
Being a workhorse of every kitchen from frying, searing, sauteing, and browning, including other tasks. It is important to go for the most high-end, durable, and stainless steel skillet that last for generations without any damage if properly taken care of. 
Cuisinart MultiClad Pro Stainless Skillet is made of high-quality stainless steel. It comes with a helper hand, which makes it easier to carry a heavy load without causing tripping and injuries. 
Saute Pan
With a wide flat bottom, and vertical sides it generally goes up higher than a skillet offering more space to easily sear, braises meat, cook sauces, and much more than a skillet. Cuisinart MultiClad Pro Stainless Saute offers a lifetime of cooking with its premium quality. 
Grill Pan
Gaining popularity in recent years, a grill pan offers a lot of help when it comes to grilling indoors. It is a must-have for burgers, roasted meals, meatballs, vegetables, and meat as it is easier to handle as compared to barbecue.
To know more about what to look for while making a purchase for a pan, have a look at Grill Pans Buying Guide for gas stoves along with the best budget yet high-performance pans. 
Saucepan; Small & Large
From smaller to bigger portions of meals, soups, pasta, and sauces, light and easy to handle saucepan is a must-have for every minimal kitchen. Cuisinart MultiClad Pro Stainless Steel Saucepan is made of stainless steel and aluminium with an easy pour design. This is oven and dishwasher safe – what a convenience. 
Speaking of the pots, All-Clad Stainless Steel Tri-Ply Bonded Stockpot with Lid is an exception when it comes to quality, durability, and convenience. 
Baking Sheet Pan & Muffin Pan
Sheet pan, baking tray, baking sheet or baking sheet pan, whatever you call it is essential for every kitchen to quickly get done with roasting and baking. Nordic Ware Natural Commercial Baker's Sheet is a commercial quality kitchen essential, light in weight, sturdy, and won't bend like cheaper alternatives.
Adding a muffin pan, OXO Good Grips Non-Stick Pro Muffin Pan, to your minimal kitchen is beneficial, not just for muffins, but also for quiches and go-to breakfast. 
Casserole Dish
A perfection for baking and serving, a casserole dish is a large, deep pan with higher edges. HIC casserole dish is made of fine porcelain. It is microwave and dishwasher safe. 
Broiler Pan
A broiler is a rectangular metal pan that is capable of enduring high heat in the oven. It is relatively thicker than a regular sheet pan, which prevents wrapping under high temperatures. The broiler pan comes with a draining pan that sits under the top pan to catch any drips. Range Kleen broiler pan is sturdy and easy maintenance, you can throw it in the dishwasher without worrying about damage. 
Speaking of a minimalistic kitchen, having the most essential utensils that are multi-functional can save you a lot of space and keep your interior neat, clean, and elegant. 
Here are some of the most used kitchen equipment that everyone must keep hold of for easy and mess-free cooking, 
Spatula

Stirring Spoon

Slotted Spoon

Tongs

Ladle

Oven Mitts

Splatter Guard
Modern Minimal Kitchen Appliances
Completing your Modern Minimal Kitchen setup, having appliances that help to improve your cooking experience are essential to make sure that you do not miss on anything while cooking. Multi-functional kitchen appliances perfectly fit into any minimalistic kitchen design, enhancing the appeal of your whole space.  
Toaster Oven
A toaster oven gets done with multi-functional tasks at hands from baking and cooking. From baking capacity to temperature controls, accessibility, toasting, defrosting, and power consumption, toaster ovens are the most efficient. To look more into the best toaster ovens for your kitchen, CLICK HERE.
Immersion Blender
Call it an immersion blender or stick blender, it is used to puree food or blend in the container you are preparing food. From blending soup to gravy, sauces, whipping cream, hard-boiled eggs, and much more, it is every kitchen's must-have. Cuisinart CSB-75BC Smart Immersion Blender offers the easiest controls and even convenient cleaning. 
Popcorn Popper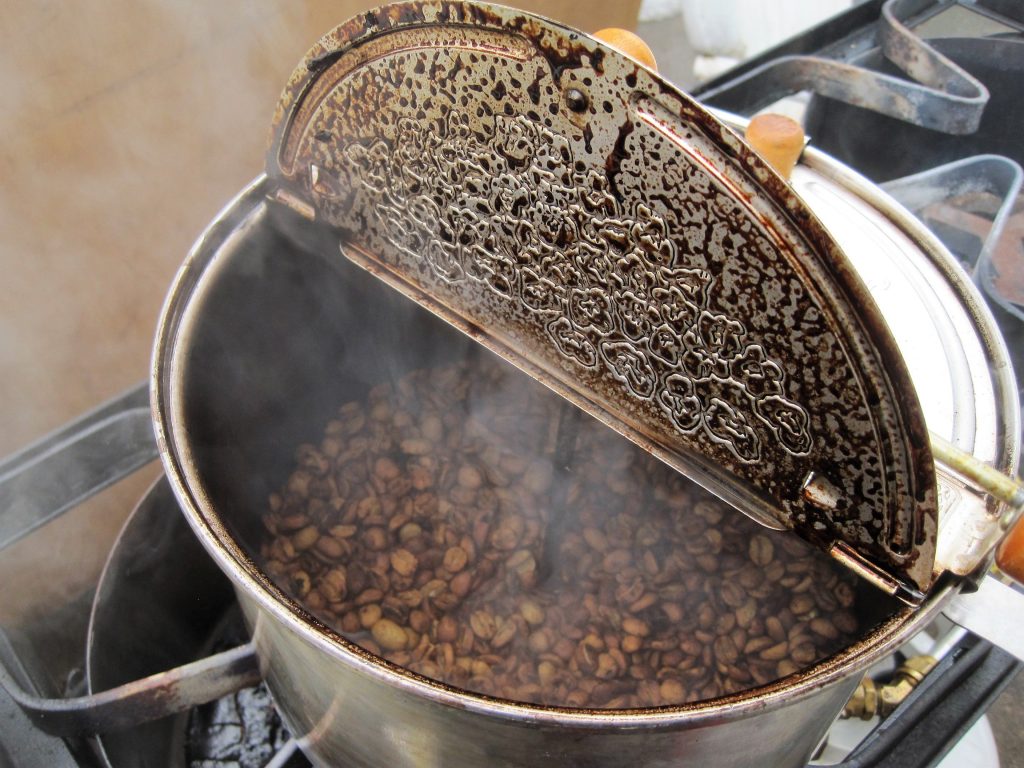 A modern minimal kitchen is all about multi-functionality and a popcorn popper can also be used to roast coffee and if you did not know that, thank us later. Here are some of the best popcorn popper that can easily be used for roasting nuts. 
Meat Slicer
Everyone loves to enjoy an instant, healthy, and tasty supper – cutting, grinding, and slicing meat at home is not a chore if you own the right meat slicer for various needs. Finding the best meat slicer is child's play with the right guidance. CLICK HERE to find the best products. 
Pepper Grinder
Nothing can beat a freshly ground pepper to increase the aromatic appeal of the food. A good peeper grinder must be capable of grinding the most coarse peppers into dust, which depends on the efficiency and power of the grinder. To know more about electric grinders CLICK HERE. 
Minimalist kitchen organization must not be frustrating but efficient. Here are some of the points you must consider before getting into the market and hoarding on to what's not necessary. 
Get into the kitchen and make a list of items you need the most. 

Keep an eye on your lifestyle along with eating habits; what you eat and how dedicated you are to cook your own food.

How often you plan a get-together for friends and family.

Always go for the items that offer multi-functionality.
Last but not the least, just sit back and go through a good Modern Minimal Kitchen guide that offers a checklist for the minimalist kitchen set. Going for high-end multi-purpose items have a stronger value than hoarding onto cheaper items that do not last long without being heavy on your budget.