Taiwan's exports
TAIPEI (Oct. 20): Taiwan's exports went down in September for the first time since 2020. This happened because China and other global markets had less demand for Taiwan's goods.
The most recent indication that the trade-dependent economy is coming under increasing strain.The end-of-year holiday shopping season in Europe and the United States, which is often the peak for export orders, would help keep the momentum going for the rest of the year, according to the government.
However, the war in Ukraine, global inflation, and China's lockdowns to contain COVID-19 were highlighted as uncertainties.According to a statement released on Thursday by Taiwan's Ministry of Economic Affairs, orders decreased 3.1% in September compared to September last year.
That was worse than August's 2% increase, but better than the 5% drop that economists surveyed by Bloomberg thought would happen.
Because of the effects of the Covid-19 restrictions, global economic slowdown, and weaker consumer demand in China, Taiwan's trade picture has gotten worse recently.
Prior to the figures for September, export orders had already decreased twice this year—in July and April—largely as a result of a decline in orders from China and Hong Kong.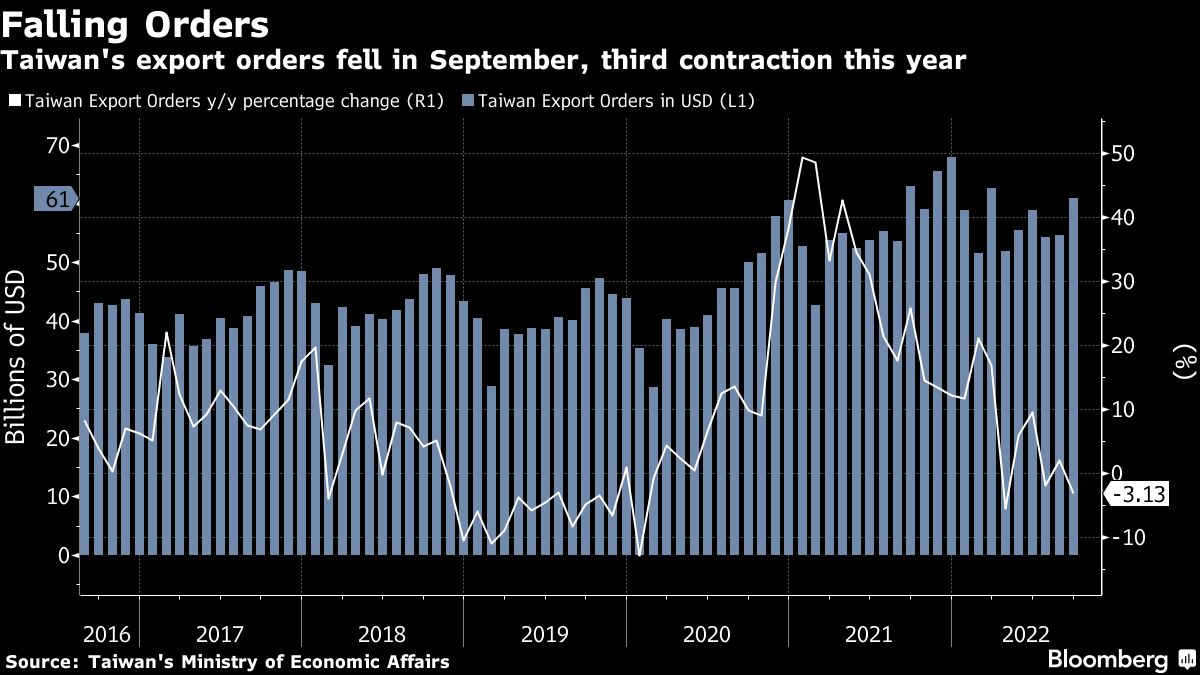 Orders from China and Hong Kong fell by 27.9% in September as compared to the same month last year, exacerbating the 25.5% drop in August.
China's economic sanctions against Taiwan are not likely to have a big effect on trade between the two countries, according to a finance ministry official. This is because the two economies are so closely linked.
Beatrice Tsai
the ministry's chief statistician, told reporters in Taipei on Monday that the electronics sectors of the two economies are "extremely dependent" on one another and that Taiwan is China's main supplier of imported integrated circuits.
Huang Yu-lin
At a press conference on Thursday, Huang Yu-lin, head of the statistics department in the economics ministry, said, "Mainland China's economic recovery is slower than we thought it would be." This affects how well export orders do.
Ho Woei Chen
analyst at United Overseas Bank Ltd., says that falling chip demand and China's slowing economy will have their "most immediate effect" before the statistics come out on Thursday.
She brought up the fact that approximately 40% of Taiwan's exports go to China and Hong Kong, which raises doubts.
Huang claimed that orders for what the government refers to as new consumer electronics, which include memory chips and integrated circuits, performed a little better than anticipated in September. She did, however, concede that growth might slow down.
Last week, after Nancy Pelosi, the speaker of the US House of Representatives, visited the island, China fired missiles over Taiwan and restricted trade in some agricultural products and building materials.
Due to how much our economies depend on each other, Tsai said, "We don't think China will put more economic restrictions on Taiwanese businesses."
In recent weeks, Taiwanese officials have raised concerns about trade and economic growth. According to the Taipei-based Central News Agency, the Cabinet's chief statistician, Chu Tzer-ming informed MPs earlier on Thursday that the third quarter's exports were worse than anticipated.
Taiwan's trade numbers for July were better than expected. Compared to the same month last year, exports grew by 14.2%. That increased overall sales to $43.3 billion, the second-highest amount on record, quicker than the researchers' most upbeat expectations in a Bloomberg survey of economists.
According to Chu, it is difficult to predict if the gross domestic product growth rate will fall below 3.5% in 2022. In contrast to last year's rise of more than 6%, the government predicts that the gross domestic product will likely increase by only 3.76 percent this year.
The chip sector has been rocked by concerns about the Russia-Ukraine conflict and rising US-China trade tensions, as well as persisting COVID-19 supply chain issues and excessive inflation, according to Yang.
The governor of the Taiwan Central Bank, Yang Chin-long, warned on Wednesday that the economy's problems will get worse in 2023. This will make it harder to predict growth, inflation, and capital outflows in the future.
An indicator of how Taiwan's trade will develop the rest of this year may be export orders. Exports fell in September for the first time since 2020, and officials have already warned that "winter is coming" faster than expected.
Last month, Su Jain-rong, the minister of finance, said that the rise in exports during the fourth quarter might only be in the single digits.
Largest Export Market
Even so, Taiwan's biggest export market continues to be China and Hong Kong together. More than $16 billion in shipments were made in July, compared to little under $7 billion in exports to the US.
According to economists, Taiwan's danger would depend on if Beijing expanded its limitations to include the manufacturing industry and semiconductors.
According to DBS Group Holdings Ltd., Taiwan's agricultural exports to China last year made up just 0.6% of all exports.
Adrienne Lui, an economist at Citigroup Inc., says that the restrictions on imports that have been put in place so far "are manageable for all trade."
But because of how unstable the world's politics are, there are still risks with other important tariff-free exports to China.
Another big worry was whether or not a series of military drills near Taiwan would have a big effect on the shipping industry. But by Monday, there were signs that shipping was getting back to normal in the Taiwan Strait.
READ MORE:
The Future of Banking How Fintech is changing the Finances?
NASA Research Finds that cutting down fuel means LESS Air Pollution
Hon Hai Precision Industry Co. [Foxconn] unveiled 2 Electric Vehicles