Last updated on April 3rd, 2023 at 05:53 pm
Do you want to explore twisting paths and find hidden treasures? Which of these devices would you bring on a road trip?
There's something magical about driving with friends or family, with the wind in your hair and the sun on your face. With the correct devices in your vehicle, your road trip may be fantastic.
Imagine you and your spouse driving in your vehicle, SUV, or RV as the BESTEK Power Inverter With 4.2A Dual USB Car Adapter charges your electronics and keeps you connected to the outside world.
Andersen Hitches RV 2-Pack Camper Leveler Blocks stabilize your temporary home.
When the unexpected occurs, you'll be ready with the AstroAI Air Portable Tire Inflator For Car Tires and the KIMO Cordless Impact Wrench to address any flat tires or mechanical issues.
The HULKMAN 2000 Amp Jump Starter For Up To 8.5L Gas And 6L Diesel is also essential when your automobile battery needs a boost.
But it's not only about practicalities; your road trip should be full of unforgettable encounters.
That's where the Hohem Smartphone Gimbal Stabilizer For Video Recording comes in, enabling you to record magnificent sights and personal moments with your loved one.
So what are you waiting for? Pack your luggage, equip your vehicle with these necessary devices, and hit the road. Adventure awaits!
BESTEK Power Inverter With 4.2 A Dual USB Car Adapter
Due to its excellent characteristics, the BESTEK Power Inverter with 4.2A Dual USB Vehicle Adapter is a well-liked travel gear.
It offers 700 Watts of immediate power and 300 Watts of continuous DC to AC power. The inverter has two AC outlets and two USB connections to charge several devices simultaneously.
The 110V AC outlets are perfect for charging laptops and tablets, while the USB ports (0-2.4A) are great for charging USB-compatible devices.
The BESTEK Power Inverter is ultra-compact and lightweight. Its iPhone-sized shape makes it ideal for travel, business, and camping. 
Its 24-inch cigarette lighter plug allows usage in practically any vehicle. Users may confidently charge their gadgets thanks to the BESTEK Power Inverter's multi-protection features. 
The 40-amp fuse safeguards electronics. The device also boasts a safe charging architecture that prevents overheating, under and over-voltage, and short-circuiting.
The inverter is protected from bumps and drops by a metal housing. Its "smart" cooling fan system makes it quiet. 
When the gadget warms up, the fan speeds up. Perhaps its output power surpasses 70W, assuring excellent performance.
Andersen Hitches RV 2-Pack Camper Leveler Blocks
Are you RVing? Campers and fifth wheelers need Andersen Hitches RV 2-Pack Camper Leveler Blocks. These leveler blocks work well on trailers up to 30,000 lbs and with tires up to 32 inches.
They give 'dead-on' leveling at any increment from 1/2 to 4 inches – this is the only leveler that is as exact and simple to use.
Using travel trailer leveling blocks or wooden planks beneath your tires might make leveling your trailer difficult. The Andersen Camper makes leveling your trailer quick and accurate.
In less than five minutes, you may level your trailer any amount between 1/2 and 4 inches. The Andersen Camper Leveler is simple to operate. Drive, select how high, and install chocks.
Read: 7 Essentials to Make your Road Trip More Memorable
AstroAI Air Portable Tire Inflator For Car Tires
The AstroAI 12V Portable Air Compressor swiftly inflates automobile tires and other inflatables. The compressor will inflate your tire to the pressure on the programmable LED panel. It shuts off when done.
Only 12V, 10A vehicle-mounted cigarette lighters are compatible with the portable tire inflator.
Three (3) nozzles and an additional fuse are included. Any Schrader valve on a vehicle, an SUV, a motorbike, or a bicycle may be inflated with it.
You may inflate balls, air pillows, cushions, balloons, and beds with the provided attachments.
Hohem Smartphone Gimbal Stabilizer for Video Recording
The improved Hohem iSteady Mobile gimbal stabilizer is perfect for road-tripping and traveling footage. With iSteady 6.0 anti-shake technology, you can take steady, blur-free photos and movies.
This smartphone gimbal stabilizer is perfect for trip videos, weddings, and sports.
The improved Hohem Joy app gives you one-click access to the Moment video template, Inception, Fantastic Rotation, CloneMe, Panoramic Video, Timelapse, and Dolly Zoom.
Editing your phone app is simple with features like face/object tracking, beauty touch-up, and pan mode change. This phone gimbal has a new "inception" mode that lets you film in 360° vertical rotation.
With a 600° broad rotation range, creative invention mode enhances your images, making it the perfect narrative tool.
Because of its design and versatility, the smartphone gimbal is ideal for fast-moving action, sports, live streaming, vlogs, documentaries, and independent features.
The redesigned sport mode lets you shoot perfect images even under challenging settings like jogging up stairs, riding outside, or navigating over uneven terrain.
Its 3-axis variable speed adaption is sensitive to hand motions, guaranteeing smooth, professional-looking film.
Read: 9 Smart Cycling Products That Are a Game Changer
HULKMAN 2000 Amp Jump Start For 8.5L Gas And 6L Diesel
The HULKMAN Alpha85 is more than a vehicle battery jumpstart. It's a battery pack for 12V DC equipment like tire inflators, inverters, and more.
The device has 2000 peak cranking amps and can start 8.5L gas and 6.0L diesel engines—60 jumpstarts per charge.
The Alpha85 has USB, USB-C, and 12v DC ports for charging phones, tablets, cameras, and other devices.
Slime Digital Flat Tire Repair Kit
A mixture of sealant and air is blasted into your tires with the Slime Digital Flat Tire Repair Kit, sealing punctures and restoring the tire. Digital repair takes eight minutes.
The Slime Kit's digital gauge has a bright backlit display to check tire pressure. The gadget has a pressure release valve and connects to a regular 12-volt auxiliary port.
The sealant fix punctures up to 1/4″ (6mm) and is non-toxic, non-corrosive, and suitable for tires and rims.
Read: 9 Most Exciting Gadgets We Expect to See in 2023
Loncaster Car Dashboard Phone Holder
The Loncaster Vehicle Dashboard Phone Holder is great for road trip GPS use. The device secures your phone and GPS navigation device with non-slip technology to protect the driver and phone.
The phone holder fits most 6-12mm mobile phones and GPS gadgets. It works with many mobile phone models, including Apple, Samsung, LG, HTC, Huawei, and more.
This phone holder is stable and slip-free. Its soft silicone-textured bottom and adhesive pads hold your phone firmly in place even during unexpected stops, quick twists, or emergency braking.
The Loncaster Vehicle Dashboard Phone Holder has a washable and reusable bottom. Rinse and dry sticky pads to regain their stickiness.
LED Tactical Flashlight Gearlight S1000 For Emergency
The GearLight S1000 LED Tactical Flashlight is a powerful flashlight that works in emergencies, outdoor activities, and professional settings.
It has a robust aluminum body and a 1000-lumen LED bulb. The GearLight S1000's focus may be adjusted.  The flashlight's zoomable focus lets users switch between a floodlight and a spotlight.
It makes the S1000 perfect for numerous jobs, including lighting a vast area or focussing on a single item. The GearLight S1000 features five light modes: high, medium, low, strobe, and SOS. 
It enables the user to pick the proper amount of light for the job, whether lighting a dark path or signaling for aid in an emergency. The GearLight S1000 has multiple light modes, adjustable focus, and durability.
Its water-resistant construction and aircraft-grade aluminum make it drop- and impact-resistant. The S1000 is helpful for outdoor activities, professional work, or emergencies.
Read: Top Must-Have Gadgets for Your 2023 Trip
KIMO Cordless Impact Wrench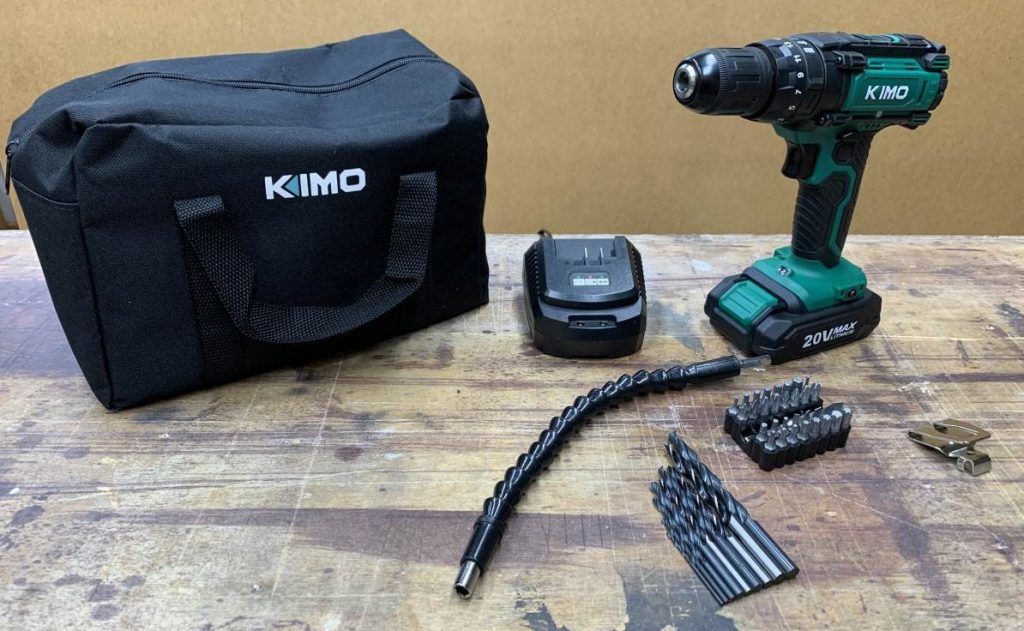 The flexible KIMO Cordless Impact Wrench speeds up your work. The improved brushless motor produces more power with less heat, making it safer and more dependable for heavy-duty applications.
This impact wrench is lightweight and ergonomic. It is perfect for novices and those with arthritis since it weighs just 3.9 lbs and is simple to handle and move.
The insulated soft-grip handle prevents fatigue and discomfort. The KIMO Cordless Impact Wrench has two-speed options to suit your demands. You may choose the right speed to remove or tighten nuts rapidly.
Another fantastic feature of the KIMO Cordless Impact Wrench is its brake-stop technology, which prevents nuts and bolts from dropping or being damaged after being loosened.
The KIMO Cordless Impact Wrench's newest chip technology enhances battery life and runtime by 25%.