Last updated on November 4th, 2022 at 10:44 pm
If you have also grown-up watching those classic cowboy movies, you must be fascinated by the idea of having one of the vintage cowboy boots. Well, a good cowboy boot must have a touch of class to them but at the same time must be comfortable enough for a full day at the office. Most importantly, what good is a cowboy boot, if it is not practical enough to ride in?
Well, our research team took all of that and much more into consideration and came up with this list of most comfortable cowboy boots for men currently available in the market.
Things to consider before buying- comfortable cowboy boots for men
Materials
Just like all other types of boots, the things you should consider before buying a cowboy boot should not only be related to how stylish they look. But, also how durable they will be. Will they be able to conduct the required task? And the most important part; are they comfortable enough?
Leather is the most common material used to make a cowboy boot. Genuineness of leather is important, anything less than 100% leather is not acceptable. May it be cowhide leather or any other type of animal skin.
All of the material choices comes with its benefits and drawbacks. When it comes to choosing between different material types, weigh up pros along with cons and then decide, based upon your needs.
Alligator
The most long-lasting and tough cowboy boots are made from alligator skin. When it comes to hard-working boots, this material will always be the first choice.
There is a lot of effort involved to maintain them. Firstly, brush away all the loose dirt and detritus. You can use saddle-soap but be careful. Don't allow alligator boots to dry out too much as it might crack your boots.
Furthermore, you need to use a Reptile specific conditioner to keep your boots look great. In addition to that, non-silicone weather protectant will add a layer of protection against extreme weather.
Snakeskin
When it comes to optics, there are no better boots than the boots made from snakeskin. They are the most stylish cowboys shoes out-there.
The snakeskin boots are very delicate and require an intensive level of care. Use a soft brush to remove dirt and detritus. Always use conditioners that are made specifically for snakeskin. Otherwise, the delicate snakeskin could be damaged.
Cowhide
Cowhide leather is the material used in the manufacturing of the majority of working cowboy boots. They are the most reliable and long-lasting boots out-there. They will look fantastic and offer you many years of great use, with very little care.
This material is usually the best option because they are easily maintainable in comparison with other material types. All you need is a brush, saddle soap, and a good quality leather conditioner. Care products are easily available for this material type.
If this is your very first pair, cowhide boots are the best option for you.
The Fit
Before opting for a cowboy boot, you need to know the style that works best for you. If you haven't tried out cowboy boots yet, you might want to try out a few to know which style suits you the best.
Generally, it has been observed that cowboy boot has a different fitting than a regular boot. So, your regular footwear number might not work here. You may also want to consider the manufacturers' advice before trying on the boots.
Toe-Box
There are two main types of cowboy boots that you need to know before looking for a boot.  The two types are rounded style boots and square-toe boots. Rounded style boots are best suitable for narrow feet. While square-toe boots are more suitable for wider feet.
Design
Your whole look could be improved by a pair of boots. So, keep that in mind before you decide on a new pair. The boots should match well with your style, in terms of fitting and looks. For example, the taller boots might be the best option for people that are big and tall
Support
When choosing any type of boot, make sure that they are supportive, especially from the heel and arch area. People with conditions like flat-feet, knee, or back pain must use inserts or custom orthotics. This type of high-level support is not offered by cowboy boots.
Cushioning
Cushioning plays the main role in improving the comfort level of the boots.  Cushioning insoles or shock-absorbing midsoles are a must. Memory foam, latex, cork, or EVA are different materials available to choose from.
Lining
The interior of the shoe is critical when it comes to resisting against tough weather conditions. Decide for a lined or unlined boot wisely, based on the weather conditions.
Adjustability
A best-quality boot should accommodate your foot's unique shape. Cowboy boots are mostly slip-on style just like gloves without any concept of laces, buckles, or zippers. A new boot stretches slightly and a break-in. Breaking in takes a few days but these types of boots are worth the wait as they are highly durable.
Traction
A good boot with grippy patterns will firm your grip and will prevent you from losing traction and slipping on dry dirt or wet surfaces.
Chemical Resistance
A sole that is resistant to various chemicals is a must for people working in farms or industrial environments. Cowboy boots that are made for fashion purposes are usually exposed to animal manure or oils. So, choose the boot according to your lifestyle.
Durability
The last and most important factor when buying a cowboy boot is durability. These types of boots are extremely expensive. You will want them to work for a longer period. So, choose wisely. Especially, if you are going to expose them under tough conditions.
8 MOST COMFORTABLE COWBOY BOOTS FOR MEN
1. ARIAT Men's Rambler Wide Square Toe – most comfortable cowboy boots for men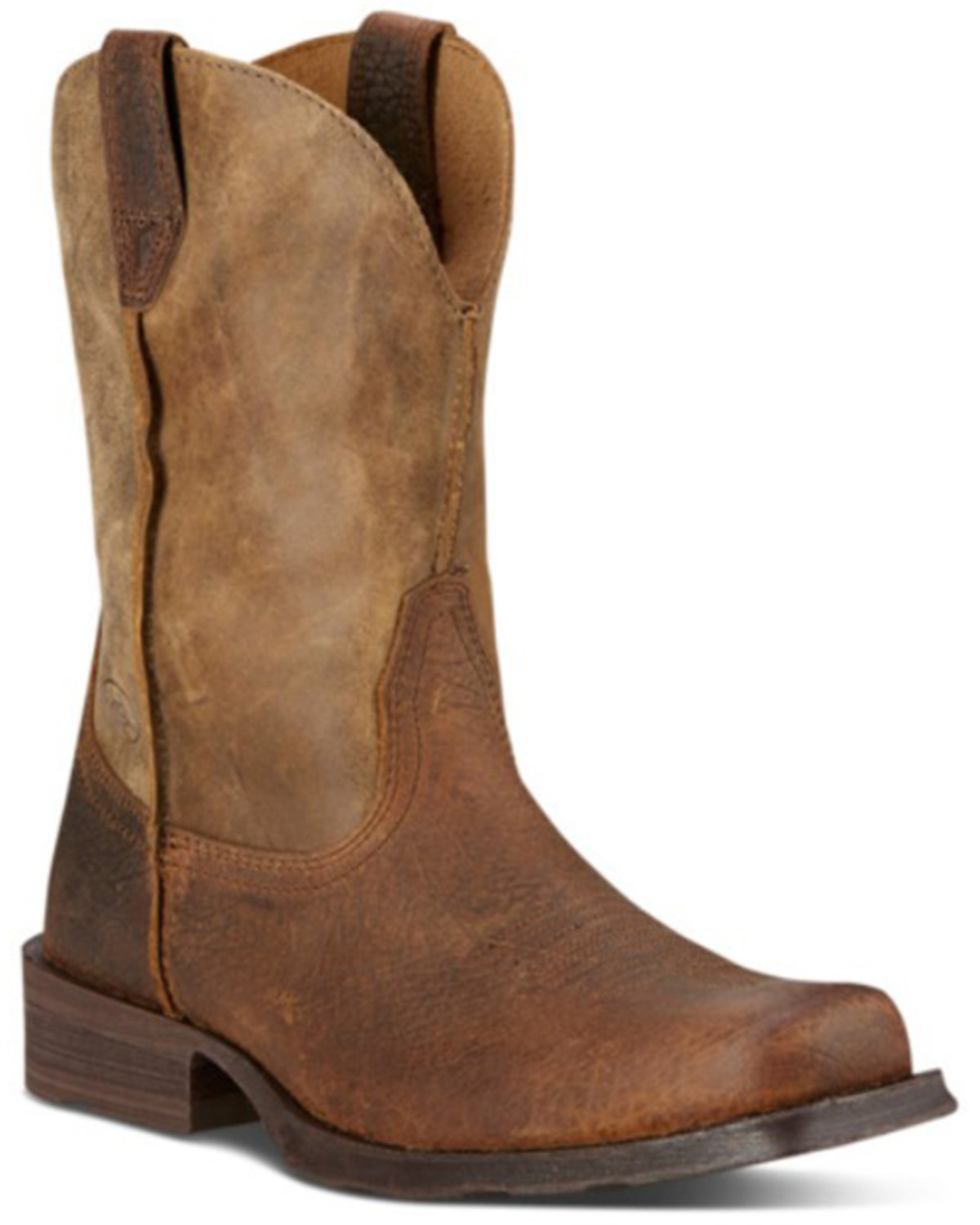 This boot tops our list of the most comfortable boots out there in the market. Their square-toe style makes them ideal for people with wide feet. There gel-cushioned footbed with heel stabilizer comes in handy when it comes to shock absorption and support.
Ariat is a brand that focuses on making highly advanced boots for professionals involved in rodeo sports and ranching. But they are also very comfy for walking and performing routine work as the footbed is moisture-wicking.
They are made up of 100% leather, which makes it highly durable and easy to maintain.
2. ARIAT Men's Rambler Wide Square Toe – Good cowboy boots for men
Stylish boots that will make you stand out at parties. The best thing about these boots is that it doesn't only offers you style, but comfort as well. These boots match well with both casual and formal wear.
The boots allow you to work or play all day long without feeling uncomfortable due to their moisture-wicking fore beds. They are slip and oil resistant, so ideal for people working in farms and industrial environments.
The factor of versatility makes Durango Harness boots stand out of all other boot making companies.
These boots are a bit heavier and are not made for athletes.
3. ARIAT Men's Heritage Roper Western cowboy boots for men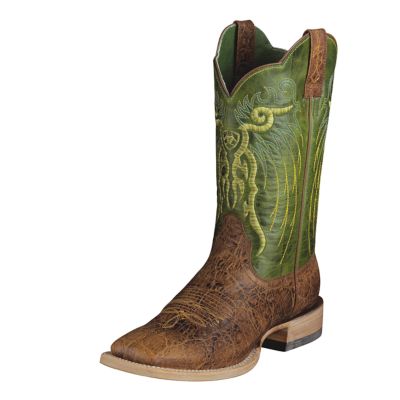 A perfect combination of dashing looks and comfortable low squared-off heels makes these boots stand out from others. In contrary to Rambler (the first one in the list), its toes are a bit narrower. Which makes them suitable for narrow feet.
The company claims that there gel cushioned moisture-wicking duratread sole allows them to be as comfortable as they are. However, some users have reviewed its fore bed to be a bit lumpy.
They come with leather lining that enhances its beauty. They can be used both casually as well as formally. They are quite versatile as they come in 5 various styles and colors.
4. Dan Post Men's Milwaukee 13″ Western top-rated boots for men
Highly stylish boots that give an attractive western look. These boots come handy whether you hit the countryside or stay in urban areas.
Their insole cushioning and lighter weight makes them highly comfortable. Whether you are wearing jeans or formal pants, these boots help you work and play all day without any discomfort.
They are not that durable as compared to others; the material starts peeling off over time.
5. Guide Gear Men's 12″-Finest cowboy shoes
The material of the boot being animal friendly, the environmentalist rates them the highest. The decorative stitching makes them stand out in looks. Although, the boots being knee-high, they are quite easy to pull on. There 2-inch heel and rubber padding make them highly comfortable.
The look and texture look authentic but unfortunately, it is not genuine leather.
6. Ariat Men's Workhog Wide Square-Toe H2O- best cowboy boots
Shock-absorbing EVA sole cushioning makes them the most comfortable boots to put on. Both outsoles and midsoles contain welt that is cemented and stitched.
Keeping in mind that Ariat Company makes boots for the professionals' athletes, they are made up of full-grain waterproof leather. These types of boots are highly durable. Their in-built stability chassis allows you to firmly ground your feet on slippery surfaces.
Because Ariat makes boots for professionals, they don't fit well with people with slim legs.
7. Ariat Men's Heritage R Toe Western- comfortable cowboy boots
These are the most expensive of all the boots mentioned in the list. They are knee-high. One of the most elegant and trendy boots out in the market due to its classy stitching and design.
These boots are as comfortable as the above-mentioned Arial boots. Their soles are made up of rubber that provides extra cushioning and grip. Like other Arial boots, they are highly durable.
8. Laredo Men's 12621 12″ Trucker Boot- comfortable cowboy boots for men
Nicely made traditional boots that fit all taste types. The metal element in the heels and toe area gives them a gorgeous shine. They are built tough so that they could be exposed to difficult environments.
There high-quality thicker rubber soles fit well, which makes them highly comfortable. They don't scuff easily and are long-lasting.
Users have reported problems regarding their heel caps and hard leather.
Conclusion:
A cowboy boot is not only for professionals involved in rodeo sports. But in fact, they add great value and style to your wardrobe as well. It is a common misconception that cowboy shoes are uncomfortable. But in fact, they are great for people who tend to walk a lot. We have guided you with the best cowboys boots out-there in the market. Now, it is you to decide what kind of pair fulfills your needs.
FAQs:
Are cowboy boots comfortable?
Yes, high-quality cowboy shoes are incredibly comfortable. Your feet suffer when you buy a cheap pair that doesn't fit you well. Find a boot from above that fits you well and give it time to break-in and you will want to wear it every day.
Is it healthy to walk in cowboy boots for long periods?
A cowboy boot with cushioned insole allows you to walk and play in them all day long
How do I know if a boot fit?
Your foot should feel comfortable, warm, and cozy.
Wait for the boot to be broken-in, its ok if heel slip initially in the new boot
Make sure your toes don't squish
Go for a little tighter in-step
What is the importance of heel height?
Like all other shoes, heels height plays an important role in the comfort of a boot. In our guide, heels height ranges from min .25″ to max 1″ depending upon the type of shoe. A durable and rugged material helps one to wear them for long periods
Will I need to waterproof my cowboy boots?
Some of the shoes are built-in waterproof. While others, especially cowhide leather need waterproofing when you purchase them. The boots are made for tough conditions, so you need to do waterproofing. So, they don't get exposed to extreme weather conditions. For this purpose, waterproofing prays are available in the market.
Is it necessary for me to add spurs to my cowboy boots?
No, it completely depends on the competition you are taking part in. Some competitions allow adding of spurs, some don't. The decision of adding spurs depends upon your program.
Will spurs cause pain to my horse?
It depends on how advanced you are as a rider and training of your horse. Spurs are beneficial only for an advanced rider with highly skilled horses.