You may only sometimes have someone listening in on you on your smartphone. 
When using virtual/digital assistants and several other programs, it does, nevertheless, unquestionably record and publish your speech (online). 
You'll learn how to block your mobile devices from listening to you and uploading voice recordings in this guide.
Is my phone listening to me, and why?
It means that your phone is listening to you. What's the reason, though? Whose benefit? 
The simple answer is that your phone and service provider utilize speech data, which may appear in various ways, from voice assistant programs like Siri and Google Assistant to tailored adverts.
They also pay attention to you for marketing reasons. 

Google and other search engines use your speech data to monitor your search and browsing history to guarantee that the internet advertisements you view are pertinent to your interests.

It's just a different way to target you with appropriate adverts, which helps the advertiser get the most money from their customers by eliminating irrelevant ad targeting.
Does my phone ever eavesdrop?
The next natural step is to ask this. If it's legal for your phone to listen to you, does that mean it does so constantly while it's on? 
The quick answer is that, theoretically, your smartphone is constantly listening. The truth, however, is a little more complicated.
It must be listening incessantly for a voice-activated gadget to recognize "wake words" or the spoken command used to start their virtual assistant service. 

These may be as simple as "Alexa," "Hey Siri," or "OK, Google" (much to the annoyance of anyone whose name starts with those five letters).

It is not to say that everything else being stated is being disregarded. 

Your intelligent gadgets, as previously noted, gather data of all kinds to build a "profile" of you as a user and customer to provide you with the most relevant advertisements.

It seems reasonable that you would still be worried about this technique from a privacy aspect, even if there is often nothing sinister behind it (depending on how you perceive data collecting as a whole).
Android operating system
"OK, Google" is one of the "wake words" for Android devices; however other terms may also be heard by your phone. 
That does not imply that Google has audio recordings of everything you say. 
Most of the voice data would not have any use for advertising. 

But whatever you say following those wake words—for example, "Who is the President of Mexico" or "How old is Emma Watson"—will be kept in the same way that a Google search would be.

However, your Android phone can also potentially capture private conversations or other information from your life inadvertently. 

Possible topics of discussion with friends include some esoteric trivia.

 One of you responds, "OK, Google it!" when the other doesn't believe you. 
But there is little doubt that other words or phrases with a similar pronunciation might be mistaken for your virtual Assistant's wake word.
iPhones
Your iPhone also hears you. Siri is always on the lookout for specific wake phrases or other keywords. It was one of the first virtual assistants available on smartphones. 
But compared to other gadgets, Apple goes farther. 

To learn how to enhance its services, your iPhone will randomly choose from talks that Siri recorded.

Furthermore, the iPhone maker made headlines in 2019 when it came to light that its contractors often received information beyond what they had asked for. 

Users of iPhones would have good reason to be worried following this. 
While Apple asserts that it has taken steps to prevent the unintentional gathering of private information that is embarrassing or sensitive, the technology that caused the problem in the first place is still present in all current mobile devices.
Read: 4 Ways to Turn Your Cell Phone into a Thermal Camera
Does it have my permission to listen on my phone?
In addition to listening to you, phone manufacturers are well within their rights to do so. 
"I didn't give my permission," you could be thinking. Well, I'm sorry to say that you probably almost did.
When you agree to the terms and conditions for downloading an app or updating software, you do that. 

From audio to surfing to other online activities, here is how smartphone makers and app developers capture your data. 

The purpose of this post isn't to discuss whether or not that is completely honest. The reality is that it's permitted and taking place.

It doesn't necessarily follow that your gadget can't listen to you unlawfully simply because it can legally listen to you. 
Your smartphone is susceptible to malware or spyware infections that may monitor your online behavior, just like any other internet-connected device. 
For this reason, it's often a good idea to set permissions limits and to read the terms of service thoroughly before committing to them.
Does Your Phone Hear What You Say?
The speech recognition software in Apple devices only turns on the iphone's Microphone for voice input when it recognizes the "Hey Siri" hotkey. 
Apple also claims that speech interactions with Siri are not connected to your data, including Apple ID, email, and other accounts.
Google also captures your speech when you use Google services on your Android or iOS device, such as Assistant, Maps, or Search. 

Google claims that these applications don't constantly listen to or spy on you. 

On the other hand, if you hit the microphone button or perform the "Hey Google" voice command, they capture your Voice along with a brief segment of previous audio.

This data gathering is entirely lawful. 
Actually, by agreeing to the terms and conditions of the applications, you permitted your data (i.e., Voice) to be recorded. 
Fortunately, there are techniques to prevent digital assistants and other applications from recording or listening to your speech.
Read: Gift your young tech geek the best smartwatch for teenager
Stop the Android from hearing you.
Your smartphone will no longer actively listen to you if you turn off the "Hey Google" wake phrase. 
You should further turn off microphone access for Google and Google Assistant applications. 

Last, prevent Google from sending Voice and audio recordings on your device to Google servers.
1. Turn off Google Assistant's voice recognition feature.
When you use your Android device's Google Assistant to provide instructions or requests, Google records your Voice. 
Here's how to stop your device's Google Assistant from responding to Voice commands.
The profile symbol is located in the top-right area of the Google app.

Tap Settings, then choose Voice.

Voice Match should be chosen; the "This device" tab should have Hey Google turned off.

Alternatively, switch off Hey Google and Voice Match by selecting Google Assistant in the settings menu.

Even if the "Hey Google" wake phrase is disabled, specific (Google) applications can still listen to and track your speech through Assistant. 

When you toggle "Hey Google," a prompt letting you know that Assistant is still active in Google Maps, Android Auto, and other driving applications will show up on the screen.

Toggle off the While driving option by selecting Driving Setting on the pop-up.
2. Deny Google and Google Assistant access to your Microphone
It is a pretty efficient approach to prevent other applications and services from listening to you, including the voice assistant from Google. 
However, keep in mind that applications won't support voice input if the device's Microphone isn't available.
Open the Settings application, choose Apps & notifications, choose App details (or See All Apps), and then click Google or Assistant.

On the permissions tab for the app, choose Permissions and hit Microphone.

The authorization for the Microphone to Deny.
3. Switch off the audio recording
When you use an Android smartphone, Google records your speech interactions with its services, saving them from processing your requests and enhancing the services. 
If you don't want your phone to record your Voice or save it, tell Google not to.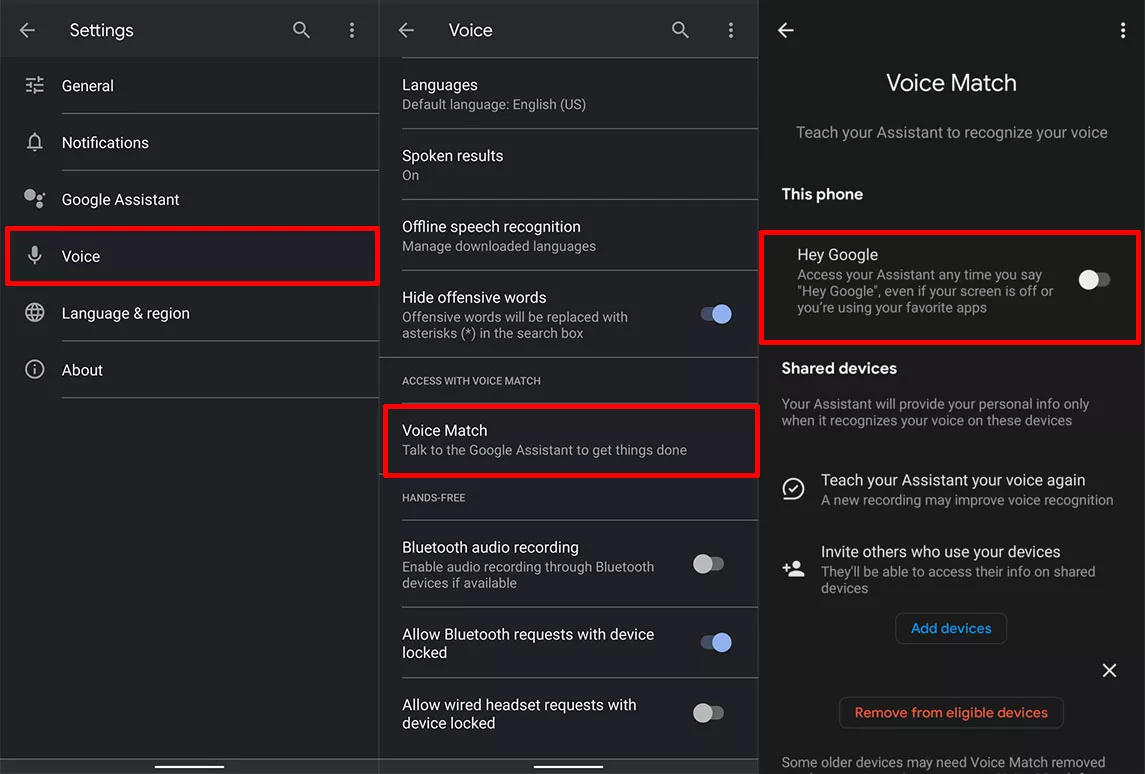 Manage your Google Account by selecting Google under Settings.

Choose Web & App Activity under "Data and Privacy" on the left.

Tap Include audio recordings to remove it, then choose to Stop storing.

When you get a success message, wait a moment before tapping OK to end the window.
Read: 7 of THE MOST USEFUL APPS
Refrain from your iPhone or iPad listening to you
Your choice of applications and services will determine how you may block your iPhone or iPad from listening to you. 
As with Android, virtual assistant applications and capabilities are often to blame if you're curious about what causes your iPhone to listen to and monitor your speech continuously.
We'll demonstrate in this section how to prevent specific applications and services from recording your speech on your iPhone.
1. Start by setting your iPhone face down
A "Facedown detection" feature that helps save battery life is included by default on iPhones running iOS 9 or later. 
Apple uses the proximity and ambient light sensors on your iPhone to determine whether the screen is facing up or down. 
Even when you get a notice, the display light won't turn on if the screen is face down on a table or other flat surface.

Place your iPhone face down, and Siri won't hear or react to the "Hey Siri" command. 

It is an innate trait that cannot be disabled.

The digital Assistant is likely programmed to override the settings if Siri still answers while your iPhone is covered or face down.

Disable Always Listen for "Hey Siri" by going to Settings > Accessibility > Siri.
2. Turn off Siri's voice activation
Apple's digital Assistant Siri may be called on iOS via a button or your Voice. 
Siri is always watching in the background whenever Siri is activated by speech on your iPhone or iPad. 
Only when it recognizes it's hot or wake word, such as "Hey Siri," will it reply or activate. 

Configure your iPhone so that Siri can only be accessed by pressing a button to stop Siri from listening to you constantly.

It limits the digital Assistant's listening when you touch and hold the side button on your iPhone.

Toggle off Listen for "Hey Siri" and Allow Siri When Locked in Settings by opening the Siri & Search tab. 

Your iPhone won't be able to listen to orders from Siri if you do that actively.

Press Side Button for Siri to enable button activation for Siri if your iPhone supports Face ID. 

Activate Press Home for Siri on iPhones with a Home button.
3. Allow Type to Siri
Send your Siri queries or instructions as SMS if you still feel uncomfortable giving Apple your Voice.
Type to Siri may be activated by going to Settings > Accessibility > Siri.

Press and hold the Side button on your iPhone, write in the text field, and then hit Done to submit the command to Siri.
4. Exit the apps for Google and Google Assistant
When closed on iOS devices, Google services cannot monitor the "Hey Google" keyboard.  If you don't want these applications to listen to your iPhone or iPad or record your Voice, close them.
5. Disable Google Assistant's microphone access
Disable the app's access to your iPhone's Microphone if Google Assistant is your preferred virtual Assistant. 
By doing so, the app won't listen to you while it's awaiting the "Hey Google " or "OK Google" wake phrase.

Open Settings, choose Assistant and turn off the Google Assistant's microphone access.
Remove old voicemails from your phone
In the section above, we demonstrated how to prevent your phone from listening to you. 
You may discover how to remove recordings you've uploaded from your device and previously stored audio here.
Voice and text instructions entered into digital assistants are uploaded to Apple (for Siri) or Google (for Google Assistant). 

When you use voice interactions with other services they own, such as Google Search, Maps, YouTube, etc., these firms will also store your Voice.

There is proof that when you use Assistant, Maps, and Search on an Apple device, your speech is captured and sent to Google, despite Apple's claim that audio recordings aren't connected to your data.

Your voice or voice recordings should be removed from these large companies' databases if you don't trust them.
Getting rid of Siri's history
Navigate to Settings > Siri & Search > Siri & Dictionary History, press Delete Siri & Dictation History, and then choose Delete Siri & Dictation History once again.
On iOS and Android, see and delete the history of voice requests:
Tap your profile image in the top-right corner of the Google app, then choose Manage your Google Account.
Click the "Data & Privacy" tab, then select "Web & App Activity."
Tap Manage all Web & App Activity after scrubbing to the bottom of the page.
The Google products—Google Search, Assistant, and Maps—that store audio recordings may be chosen by tapping Filter by date & product. 
To continue, choose Apply.

Tap Details next to any item with a microphone symbol as you go through the list of interactions with the applications.

Image courtesy of tbn3.gstatic.com

By doing so, Google has recorded your voice input for that activity.

Expand the drop-down menu for View recording.

To listen to the recording, tap the Play symbol.

Tap the three-dot menu symbol in the top-right corner and choose Delete to remove the recording.

On the confirmation window, press Delete once more.
Disable all channels for listening
Your speech is captured and sent to their servers by more than simply virtual assistants. 
Social media networks may listen via your smartphone to deliver customized adverts for commercial goals. 
After making the adjustments mentioned earlier, disable customized adverts on Google and other social networking sites. 

The platforms won't be able to trace your past behavior or create an advertising profile based on your chats or recordings after that.
Read: 8 AI Applications That are Part of Our Daily Life
Does your phone record your conversations?
While your phone may not be listening in on every conversation, it is probably passively scanning the air for phrases like wake and others that can enhance your user experience. 
It's necessary to take precautions to safeguard your privacy since, while it's uncommon, your phone might listen to and record complete conversations.
Does your phone constantly monitor you?
Although it's not likely, occasionally, your phone may be spying on you. 
Watch out for the third-party applications you provide access to your camera, and be cautious of untrusted apps.
Which mobile device offers the most privacy?
The most extraordinary levels of privacy are reportedly found in a select few phones.
The Blackphone PRIVY 2.0, Sirin Labs Finney U1, and Solarin models all have significant privacy features, yet no device is entirely impervious to viruses and invasive data surveillance.
In Conclusion
Privacy has always been a worry for the typical customer, even before the internet and cell phones were created. 
Despite being more crucial than ever in today's increasingly online environment, privacy is seldom discussed by top smartphone makers and technology companies. 
Because of this, it is the customer's responsibility to safeguard their data and privacy actively.
But just because it's more difficult today than it used to be doesn't imply it's impossible or not worth trying to preserve your privacy. 
You have a say in how your data is compiled and kept. When you do this, you gain consumer power and stop being a piece of big tech's data. Today, take that action.