The most recent data, analysed through 2020 and far into 2021, showed that the density of air pollution signals from shipping, sometimes known as "ship tracks," decreased and remained at record-low levels "in every major shipping channel."
Modern trade is indicated by the ship tracks and hazardous marine smog that follow ocean-crossing vessels. Global shipping routes can be followed from the North Pacific Ocean to the Mediterranean Sea, like spectral fingerprints.
Ship tracks, the polluted marine clouds that ocean-going ships leave behind, are a representation of modern trade. According to satellite data  less of those pollution signatures could be seen in 2020. The density of ship tracks found between those years, computed as a proportion of the overall low-level marine cloud layer, is displayed on the map at the top of this page.
The study, which was led by atmospheric scientist Tianle Yuan of NASA's Goddard Space Flight Center, discovered that the worldwide sulphur cap for 2020 had been more effective in reducing pollution than the regional sulphur caps that came before it.
According to lead author Tianle Yuan, an atmospheric scientist at NASA's Goddard Space Flight Center, "We cannot begin to fully comprehend this problem without this kind of complete and large-scale sample of ship tracks."
The first worldwide climatology
of ship tracks was produced by the researchers using cutting-edge computing methods. Across 17 years of daytime photos (2003–2020) taken by NASA's Moderate Resolution Imaging Spectroradiometer (MODIS) on board the Aqua satellite, they employed artificial intelligence to automatically detect ship tracks.
Yuan and colleagues also discovered that changes in economic activity leave distinct fingerprints in the satellite record over the course of their extensive investigation. Trans-Pacific ship track patterns between Asia and the Americas, in particular, show peaks and troughs in trade.
According to the study, following the global financial crisis of 2008, a general rising trend in shipping activity between 2003 and 2013—reflected in ship-track clouds—declined for almost a year. Between 2014 and 2016, there was a further decline that most likely was caused by a slowdown in Chinese imports and exports of raw materials and commodities.
Trade repercussions
brought on by COVID-19 also contributed marginally to the reduction. According to ship-based tracking data g lobal maritime traffic dropped by 1.4 percent for a few months at the height of the pandemic.
Sulphur content in fuel oil used by ships operating outside of authorised emission control areas is now limited by the 2020. According to NASA scientists, the record-low levels of ship tracks that persisted through much of 2021 were primarily caused by the new global fuel policy that reduced the amount of sulphur allowed in marine fuels from 3.5% to 0.5% globally.
The researchers discovered
that in every significant shipping lane, ship-track density decreased in 2020 after reviewing the data. The IMO has noted that since the implementation of the IMO 2020 regulations, there has been an estimated 77% decrease in total sulphur oxide emissions from ships.
In comparison to the climatological mean, the annual mean ship-track density declines by 50% or more in five main shipping lanes. According to the research, the fall is much more severe when compared to 2019.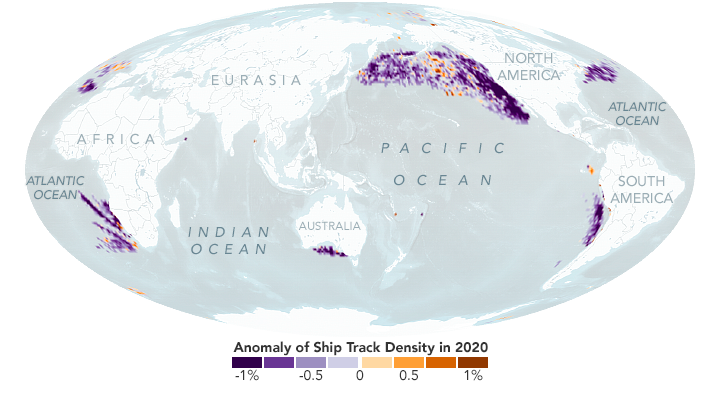 According to Yuan the interactions between low clouds and aerosols, as well as how this impacts the radiation Earth receives and reflects in space, are studied in greater detail using ship tracks as natural labs. This, he continued, is the main area of uncertainty for climate researchers.