Last updated on July 26th, 2022 at 06:49 am
Taking chat rooms to the next level, Vrchat offers a completely VR-driven gaming experience. VRchat is not just about high-end virtual gear, but even a cheap VR headset for VRchat can give you the best gaming experience. It allows a bunch of people, friends or even strangers to hang out anonymously virtually and explore and interact with each other via the best VR headset for VRchat.
As a most trending activity, finding the best VR headset for VRchat calls for the understanding of what matters the most when it comes to buying new headsets. Entering the market you will find a wide range of headsets ranging from $18 to thousands depending on the quality, brand, and model.   
What is VR (virtual reality)?
As the name specifies, virtual reality is putting the "point of view" in the centre of digital space in a way that can be captured in the form of an image or a video, animation or even a game.
A VR headset allows you to look around and interact with everything within that virtual space also known as 360-degree content. 
Things To Consider Before Buying
You will see various headsets in the market, varying in terms of abilities and limitations. Figuring out the best VR headset for VRchat depends on numerous factors like;
What you are going to watch?
Are you buying a VR headset for just VRchat or plan to use it for other purposes.
Different type of content requires different VR headset, for instance, there is;
Gaming 

Videos

Tours & live events

Seminars

Interactive narratives

Chatting and communicating
The truth is you do not require a specific headset for VRchat, but any good-quality headset would do fine. A cheap Vr headset for VRchat offers complete control over the game just as any other headset. 
Passive or Active VR 
Coming to the VR experience, there are two types, passive and active. 
Passive VR experience involves viewing 360-degree content from a fixed perspective within a virtual space created. Whereas, Active VR let you freely interact with the content created inside the virtual space. You can also change the perspective. 
Virtual reality let the user experience everything in the digital environment. For instance, riding a VR rollercoaster will let you enjoy a real-time experience just as you are in the middle of the ride, right from the couch. 
Cool, yeah?
Performance Features 
Speaking of performance, tethered headsets offer more powerful performance in comparison to untethered headsets. Quality and the performance of VR headset depends on two factors; the technology used and the power source. 
Most of the VR headphones fall into 3 categories depending on the performance, quality, and power source;
Entry-level VR:

these headset act as a carrier for the smartphone. It comes with a specific size limit such as Cocoon or Google Cardboard.

Mid-range VR:

these headphones offer better image quality in comparison to other alternatives. A specific smartphone or a game console is required to run, for instance, GearVR, PlayStation VR or PS VR.

High-end VR:

these headsets are advance and more powerful. They produce high-quality image and video, which demand top-tier PC such as Oculus Rift or HTC Vive.
Sit up Vs Sit Down
VR works as you choose them to as per your requirement. Mid-range headsets let you immerse in an active VR experience, where you play the game with a completely different perspective. Whereas, high-end models such as Oculus Rift and PS VR use a single camera with motion controls, which detect full-body movements within any smaller spaces.
Coming to a wider and bigger space setup, these VR require two cameras to the least places a few metres apart to create play space that detects your full body. It let you freely move around, walk, and lean or even dance. The only room-scale VR headset you will find these days is HTC Vive. Do not forget that full-body and room-scale VR setup are harder to set up. 
Keeping the size, setup, and performance along with where and for what you will be using it for under consideration, go for the VR headset that fulfils all your needs. 
Top Cheap VR Headsets For VRchat
You will find the best VR headset for VRchat in the market that offers good quality along with features that are enough to have an exceptional VRchat experience. 
Here are some of the best yet cheap VR headset for vrchat.
1. VR Shinecon VR headset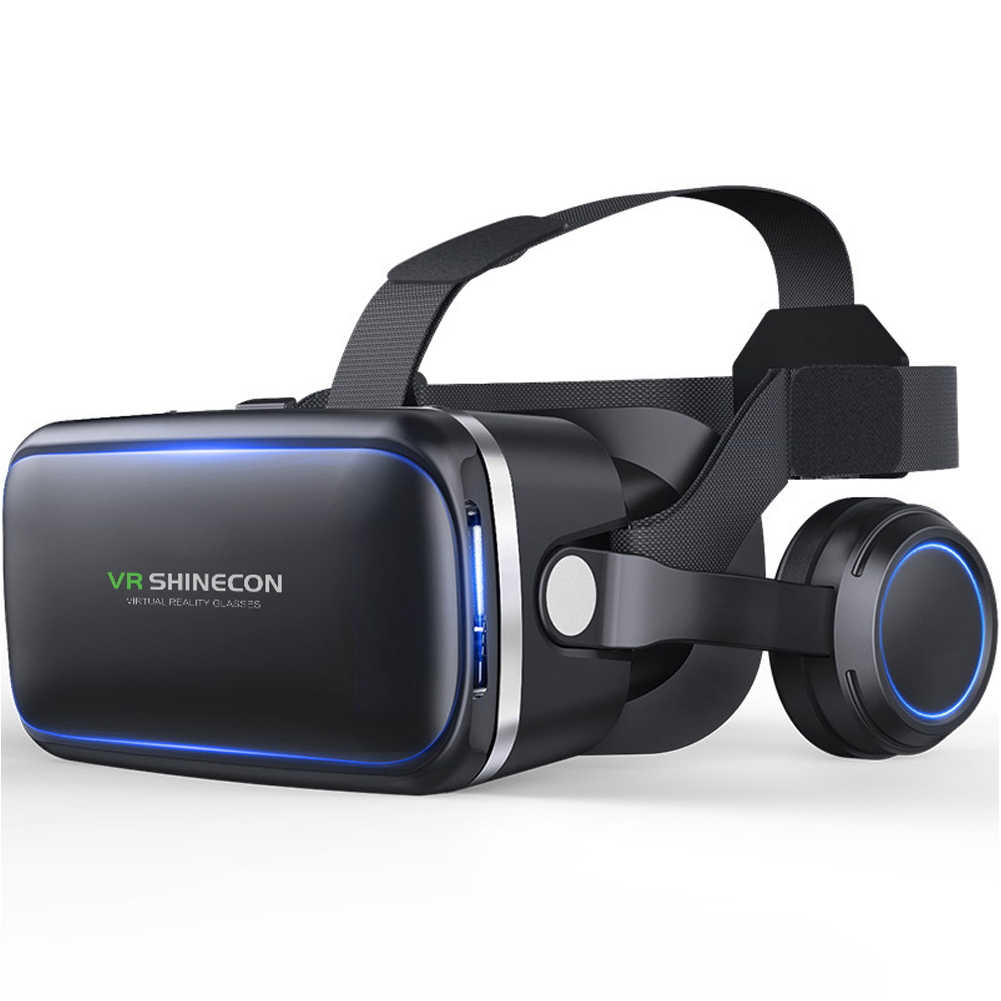 Features 
Material: ABS +40MM resin Lens

Lens: Aspheric optical lens, high transmittance

Video format :left-right 3D

POV: 100-120°

Weight: 450g

Focal distance: Adjustable

IPD: Adjustable

Faceplate: flocking fabric + sponge + velcro; it is replaceable

Short-sight suitable: 0-600
VR SHINECON Virtual Reality Headset is a newly developed VR headset based on advances of other VR headsets. It has a new conception and ideal materials. This is the finest way to immerse yourself in the latest VR technology trends and marvels!
Its adjustable T-shaped strap is composed of lightweight material that relieves pressure around your eyes, face, and head, making you feel more at peace. This headband is flexible and adaptable, making it suited for a wide range of people. Furthermore, the nasal region has been deepened, which relieves pressure on your nose. The front cover may be removed to aid with heat dissipation and to keep cobwebs at bay.
Pros 
Adjustable Focal Distance 

Adjustable IPD 

Flocking Fabric Faceplate

Suitable for Short-sight by 0-600
Cons
Needs a gyroscope on the phone
2. VR SHINECON G5 VR headset
Features 
Material: ABS + Metal

Dimensions: 120 x 100 x 30 mm

Application: Mobile Phone

Resolution: 720, 1080p

Display Size: 300 inches

Media Format: MP3, AVI, WMA
Shinecon VR headsets are the embodiment of facial mask engineering, which offers the most natural and comfortable wearing experience. Its PMMA (acrylic), plastic polymer construction makes it highly durable. Adding comfort and convenience to your headset, VR Shinecon comes with one key, interpupillary distance adjustment. 
Shinecon makes sure that it offers long-wearing hours without causing discomfort to the eyes and the head and face. It comes with an exquisite pressure line along with sweat absorption fabric, which offers ultimate ventilation. 
Pros 
Engineering headband

One key interpupillary distance adjustment

Compatible with variable phone sizes
Cons 
Problem fitting to some glasses
AMVR VR HEADSET
Features 
Item Weight: 0.5 Kilograms

Platform: No Operating System

Product Dimensions: 9.84 x 7.48 x 10.63 inches

Material: ABS + Plastic
AMVR VR headset is state of an art when it comes to design. It has a VR display stand that stores Oculus Rift. This headset set is easy to use and can be set up in 5 minutes. AMVR is compatible with most of the standard-sized VR headsets including Oculus Go, PSVR-Sony Playstation VR, HTC Vive and Pro, Vive Focus, Samsung Gear VR, and others. 
Pros 
Wireless controllers

Stable and lowest centre of gravity stand

Compatible with variable sized devices
Cons 
No rift controller included
BOBOVR VR Headset
Features 
Compatible Device: Smartphones

Type: Binocular

Viewing Experience: Immersive

FOV: 120 Degree

Resolution Ratio: 480*272

Weight: 410g
Enjoy 3D immersive gaming or vrchat with BOBOVR VR headsets with a giant-screen hall experience. Its 360-degree surrounding stereo sound ensures HIFI sound, high volume, and low undertone. With its dual-lens independent adjustment, you can separately adjust the focal length.
Pros
Ultra-wide visual angle

Ergonomic design

Multi-layer cooling design

360 stereo sound
Cons 
No Bluetooth connectivity
Pansonite Vr Headset
Features 
Platform: Android

Operating System: Android

Compatible Devices: Personal Computer, Smartphone

Connectivity Technology: Bluetooth

Controller Type: Remote Control, Button Control
Pansonite features the best, most convenient and high-end features and specifications that offer high-end visuals, easy controls, and superior sound. It has eye protection, Bluetooth connection, adjustable pupil and focus distance. 
Its ergonomic design adds comfort to the wearing experience with a T-shaped strap and lightweight material. 
Pros 
Compatible with a wide range of devices

Optimized ergonomics

Immersion experience

Multi-user deployment
Cons 
Needs a google cardboard app for a crisper image
Conclusion Cheap VR Headset For VRchat
Finding the best VR headsets for vrchat is all about personal preference along with the essential features and specifications that creates the whole difference. Go for the one the perfectly suit your needs and requirements like where and how will you be using it, for what content you are going to make the purchase, such as, gaming, movies, or live sessions. You can find the best Cheap VR Headset For VRchat without compromising the quality if you know what to look for.
We have gathered the best budget VR headsets that offer the ultimate visual experience, if you like to go even cheaper, have a look at VR headphones under 50.
FAQs | Cheap Vr Headset For VRchat
1. Do I need A VR headset for VRchat?
No, it is not necessary to have VR headphones for VRchat as you can have it running on a PC desktop using a mouse, keyboard, and monitor, but it will not give a virtual experience.
2. How much VR headset cost?
Depending on the quality, model, and brands, VR headsets vary in terms of price. Advance and additional features cost more in comparison to the ones that are very basic. They start from as minimum as $18 and the prices go up to $1000 and even more (exclusive luxury item).
3. What is VRchat compatible with?
Vrchat is supported with SteamVR, full0body tracking and motions. It is also compatible with Oculus Quest's and basically with any Vr headset that supports Android.
4. Can you play VRchat on Android?
The good news is that yes, you can play the latest version of iVRy (1.08) on your Android and iPhone devices. It is easier for everyone to find the best cheapest VR headset for their mobile phone devices.