Last updated on November 2nd, 2022 at 10:27 am
The best steel toe work boots are recommended for the people who belong to the construction field mainly by the American Society for Testing and Materials. They provide ultimate protection with the steel cap which is integrated at the toe area for preventing any work hazards.  
Such boots are constructed with different materials according to the nature of the work. The
Kinds of Work Boot includes…
Working is not just physical exertion but the brain as well. To make your working hours comfortable, work shoes are categorized into five types.
Steel toe work boots
Alloy toe work boots
Composite Toe Work Boots
Insulated work boots
Soft toe work boots
The steel toe boots have the best for safety such as anti-slipping soles, soaking, inexpensive and the most importantly, it provides immense protection regardless of work type. These boots are best for the people in the construction field.
Alloy toe work boots are the alternate to steel toe boots. They are a bit pricey and comfortable, provides protection exactly like steel but have different properties. The alloy toe shoes are lighter in weight almost 30 to 50% and are thinner. The plus point is that such boots are lighter overall.
Composite toe work boots are the non-metal ones with the lighter weight to provide more freedom while working. they are made of Kevlar, fiberglass or carbon fiber. such shoes are not recommended for tough work like construction.
Insulated work boots are perfect to keep your foot warm in the cold weather. Such boots are available with the warmth range of 200-1600 grams insulation.
Soft toe work boots are non-protective shoes. They offer the ultimate protection to your feet—helps your feet protect against chemicals, bloodborne pathogens, and importantly, prevent slip or fall hazards.
How to select the right steel toe boot?
Protection is not the only thing that you have to look in the work shoes. Other factors that matter includes
Sole and Heel
Regardless of the type, without the right heel, it is not worth buying. Make sure to look if
It is puncture proof; objects such as debris or nails or broken glass can cause injury regardless of the work boot. To prevent the feet from such sharp hazards, check if such shoes has penetration protection and resistant up to the 1100N penetration force.
Slip-resistant
While working in the field, there are chances of slipping or falling. The work boots must have an incredible level for traction to prevent falling especially for the people who work in damp environments or in oil garages.

Other than that, the multi-directional treading work to give you, for the most slippery surface, some boots are also acid resistant just to prevent the harmful spill of chemicals.
Construction of boots
This does seem to be irrelevant but actually, it is important as the boots must be in accordance to the type of work—as it impacts the performance, weight, and flexibility.

The key is to move freely; the work boots must be light in weight. The construction of work boots is categorized as cement construction, good year construction.
The cement-constructed boots are molded in the shape of feet that offers more impact absorption. Such shoes are inexpensive.
Goodyear welt construction boots are the preferred ones as they use welt which is made from different kinds of materials such as rubber, leather or plastic which is later attached to the upper part of the shoe. These are durable and unbreakable (most of the models).
Other features for the Keen work boots include..
Shoe fitting
Like any other feature, fitting of the shoe is surely important. This is emphasized enough because it would compromise comfort. They should not be too tight or loose or they would cause the ailments like corns, blisters or even ingrown toenails.
Work Boot Weight
The average work boot weight is not more than 3 lbs. however, the best steel toe work boot weight ranges between 4.0 lbs. to 4.5 lbs almost. Whereas, the alloy toe is 1.5 lbs less and the composite-toe boot weighs up to 4 pounds approximately.
Water-resistance
The materials used for manufacturing the work boots vary depending upon the nature of the work. Make sure the shoes must be waterproof to work in the snow, mud, wet or even gravel.
Top 6 Best Steel Toe Work Boots
1.  Chinook Footwear Oil Rigger Steel Toe Boots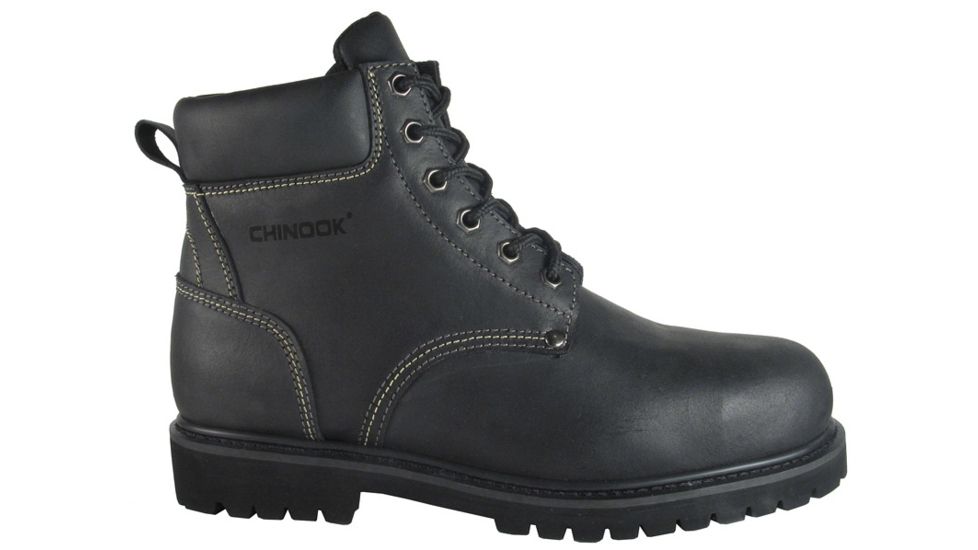 Key features
6 inches boot height

Moisture wicking fabric

Multi-cushion footbed

Padded collar

Oil resistant sole

2lbs product weight

Leather upper material

Durable

Steel toe

ASTM approved
Chinook footwear steel boots are developed to meet the ASTM safeguard standards. It comprises a wide range of safety features to ensure possible protection. This steel-toe boot has leather and rubber sole construction to make it resistant to slipping and oil.
It is a 6 inches long black stylish boot for men. Multi-cushioned footbeds make it comfortable and you can work all day long without pain and irritation.
 The footwear is lightweight and heavy-duty constructed with leather. A padded collar provides comfort to your leg while running or working. Steel toe allows your work or walk on mountains or stony areas without obstruction.
 Moisture-wicking fabric keeps your foot dry and saves you from fungus. It is one of the most highly demanded and best steel toe boots.
Pros
Durable leather construction

Light weight

Padded collar

Multi-cushioned add comfort
Cons
2. Kenetrek Leather Personnel Carrier Steel Toe
Key features
Steel safety toe

4.3lb product weight

Laces closure

Leather material

Grain rough-out leather upper fabric

Water resistant

Thinsulate

7mm nylon midsole material

8 inches shaft height
Kenetrek Leather Personnel Carrier is a safe shoe that leaves a choice up to you to add steel toe or not. It is lightweight and laces closure makes it easy to wear without wrecking reliability and overlooking protection.
Whether you are on heavy-duty or plainly working, this rough-out leather boot contains all the features you can ask for. Nylon midsole material provides comfort and makes slipping resistant meets safety standards of ASTM.
These are the best steel toe work boots for men as they are waterproof and water-resistant footwear doesn't allow water to enter your boots if you walk on snow and keep your feet dry. These are the best composite toes work boots Keep your feet protected from fungus and bacterial infection.
It is not insulated for climatic terms, but Thinsulate to wear in very cold weather and keep your feet warm. It is 8-inch tall military coyote brown boot ideal to wear at work.
Pros
Easy to wear

Strong and durable

Ideal height
Cons
Not recommended to wear in warm weather
3. Reebok Women's Sublite Work Athletic Oxford
Key features
Leather and micro web fabric

For female

Steel toe

ASTM approved

Footfuel footbed

Slip resistant

Static dissipative

Dual resistor

30 days comfort guarantee
Reebok is well known for their high quality sports goods. This footwear is made with high quality material like leather and micro web fabric to keep you on work with pain and irritation.
It is designed to meet the safety standards of ASTM. Steel toe feature keeps your toes well protected and allows you to work on rough surfaces.
It is aesthetic women footwear with a foot fuel footbed that makes it even more comfortable while walking. These Women's steel toe work boot is static dissipative with dual resistors. These could be the best steel toe shoes for women because of its rubber sole construction mate it oil and slip resistant.
Such work boots for women have the striking feature that makes it the best steel toe shoes for women is it comes with 30 days comfort guarantee that makes your choice easy.
Its designing and different colors gain the attention of many people. It is one of the comfortable footwear for women that come in budget.
Pros
Durable

Comfortable and breathable

Slip-resistant

ASTM approved
Cons
4. Servus Neoprene Steel Toe Work Boots
Key features
Water proof

For men

Seamless construction

Slip resistant

Oil resistant

Shock absorption

Steel toe

Brown
Servus Neoprene Steel Toe Work Boots are waterproof boots that meet the safety standards of ASTM. This is long footwear for men with steel toes to ensure the best possible protection. Seamless construction keeps the workers' feet dry and comfortable.
Its unique interior material makes the boot soft and keeps the feet comfortable. Waterproof material allows you to wear in water and at a considerable length to avoid the water from entering from the top.
These are the most comfortable steel toe boots for standing all-day have an aesthetic design with outstanding features. The Chevron sole provides extra protection and traction to prevent slipping and falling on smooth and slick surfaces.
It is featured with removable soles that are shock absorption and take away the sweat to keep the feet dry and save from any fungus or bacterial infection. Servus neoprene steel toe shoes are ideal for the workers to work in all climates whether dry or around water.
Pros
Slip and oil resistant

Waterproof

Seamless construction
Cons
Some people complain about the length
5. Chinook Footwear Badaxe Steel Safety Toe Boots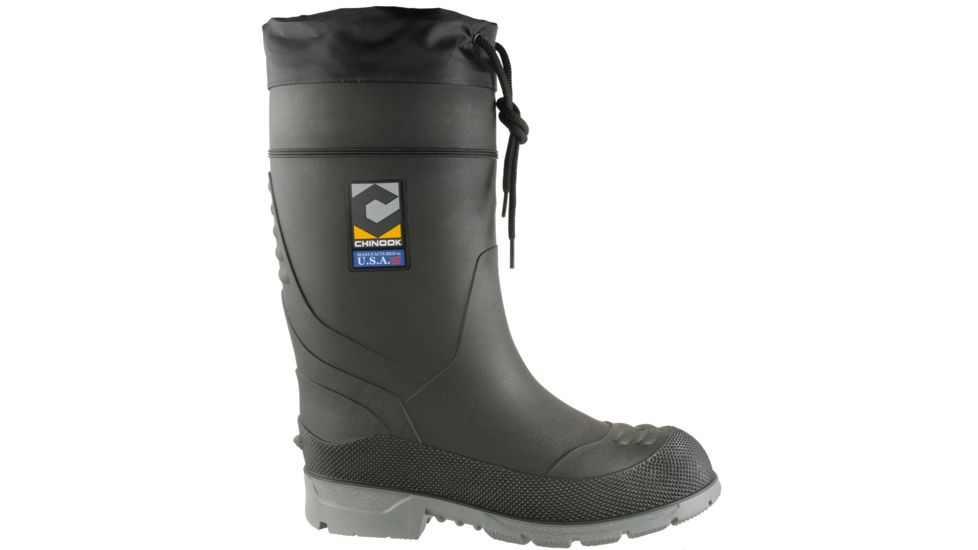 Key features
13 inches height

2lbs product weight

Waterproof construction

Adjustable nylon show cuff

Usable in cold weather

Steel safety toe

Oil resistant

Slip resistant

ASTM approved

For men
Chinook Footwear Badaxe Steel Safety Toe Boots is black heavy-duty constructed footwear for men. It is a lightweight 13 inches high shoe that makes your walk comfortable.
 Thes are one of the Best waterproof steel toe work boots stands out in two-term, protection and durability. Its safety features like the leather exterior, adjustable nylon show cuff and safety steel toe meet the safety standard of ASTM.
13-inch shaft length provides full support to the ankle in all sorts of surfaces and pillage to less fatigue. Rubber sole construction is ideal to make the book oil and slip-resistant.
This super waterproof footwear is designed to wear in cold weather. Moreover, the boot is roomy enough to adjust gel pads for more comfort.
Pros
Durable

High protection

Budget friendly

Meets ASTM standards
Cons
Comfort could be improved
6. Muck Boots Arctic Sport Steel Toe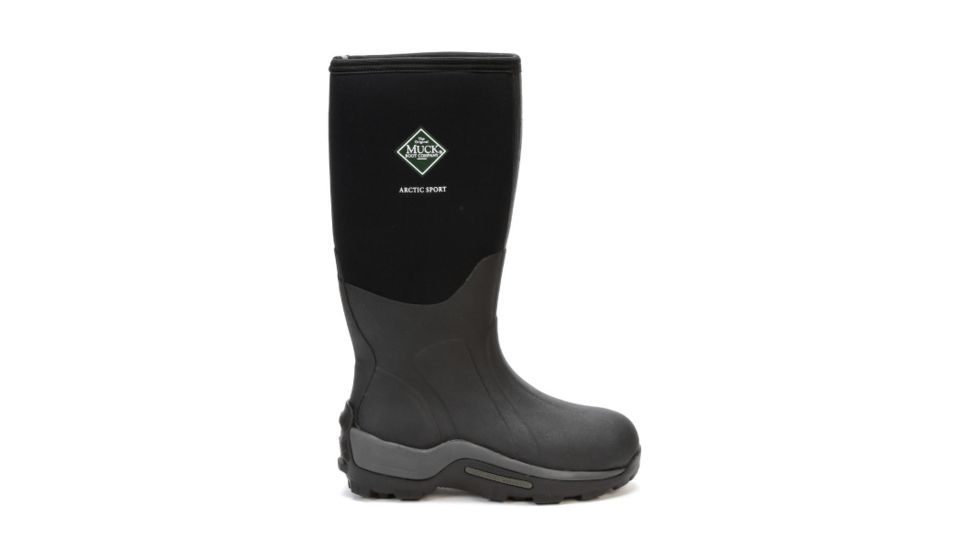 Key features
Sports boot

For men

Waterproof

Water fleece lining

Rubber or neoprene fabric

2m thermal foam under foot

EVA midsole

Steel toe

ASTM approved

Black
Muck boots arctic sport steel toe are high-performance men's sports boots with amazing protection and comfort features. This footwear is ideal to wear in cold and snowy weather, keeping the feet warm up to -40 degrees.
Waterproof material keeps the feet dry and comfortable for many days.  Rubber and neoprene fabric with 2m thick thermal foam under the feet keeps the feet safe from damage when running, walking or working.
Muck boots meet the safety standards of ASTM. EVA midsole material makes the boot oil and slip-resistant. While getting a hand on a pricey boot many seconds thought comes to mind, but this muck book smashes them with its excellent features. Aesthetic design and color black the cherry on the top attract attention of boot lovers.
Pros
Durable and strong

Keeps feet warm and dry

Ideal look
Cons
Not recommended to wear in warm weather
In the end
American Society for testing and materials has categorized the work shoes that match according to the work requirement. Every work boots have their own significance. However, the best steel toe work boots are the preferred one.
In this article we have mentioned top rated work boots so you can get the right shoes according to your need.
FAQs
What are the lightest most comfortable work boots?
The lightest most comfortable work boots are the product which is made with a combination of polyurethane midsoles, moisture-channeling mesh linings, diffused shank to maintain the structural support and torsional stringency.  Such materials make your shoe sturdy and long-lasting with comfort.
Should I wear socks with my steel toe work boots?
Yes. You should wear the socks with your steel toe work boots. However, the best steel toe work boot socks are made with either cotton or by natural fibers.
Make sure the socks that are used with the steel toe boots must be able to moisture-wicking which are usually made with polyester, wool or some other synthetic blends.
Can safety Shoes Damage your Feet?
Safety shoes sometimes damage your feet but they can damage if they are not of the right size. They might cause swelling and friction that cause discomfort and prone to cause accidental ankle twist.
What could cause boots to wear out?
In the safety work boot, the steel toe put pressure on the leather that's why the leather tends to wear out fast in a steel toe work boot. The foot wore out when you put the weight of the body more than once.
For more Reviews: Jazzeon.com