Last updated on October 31st, 2022 at 11:08 am
All microphone stands might seem more or less alike but, there are many differences in the models that separate them into several categories. Also, numerous microphone stand attachments and accessories add to the stand's overall usability. With so many versions, you might find it challenging to differentiate between the types of microphone stands or what microphone stand accessory is necessary along with its uses. Therefore, we have compiled a guide for you that helps you understand microphone stands better. 
Types of microphone stand: 
Having the best microphone stand is as significant as investing in the microphone itself.  It helps you support heavy-duty microphones and allow you to carry out studio recording sessions or live onstage sessions hands-free. Pro musicians aren't the only ones that find microphone stands particularly beneficial. Gamers, YouTubers, and folks who do podcasts and live broadcasts right from their homes highly value best quality microphone stands. Check out the several categories below. 
1- Standard Microphone Stand:
A standard microphone stand is usually a straight one that comes with two types of bases- round and tripod. The tripod base is best for general use, while the round base stand is preferable for stage performances as it stays put, creating less risk of tripping over. The height of standard microphone stands is adjustable. So, if you're looking for a sturdy onstage microphone stand, a dome-shaped base would do the trick. 
2- Boom mic stand: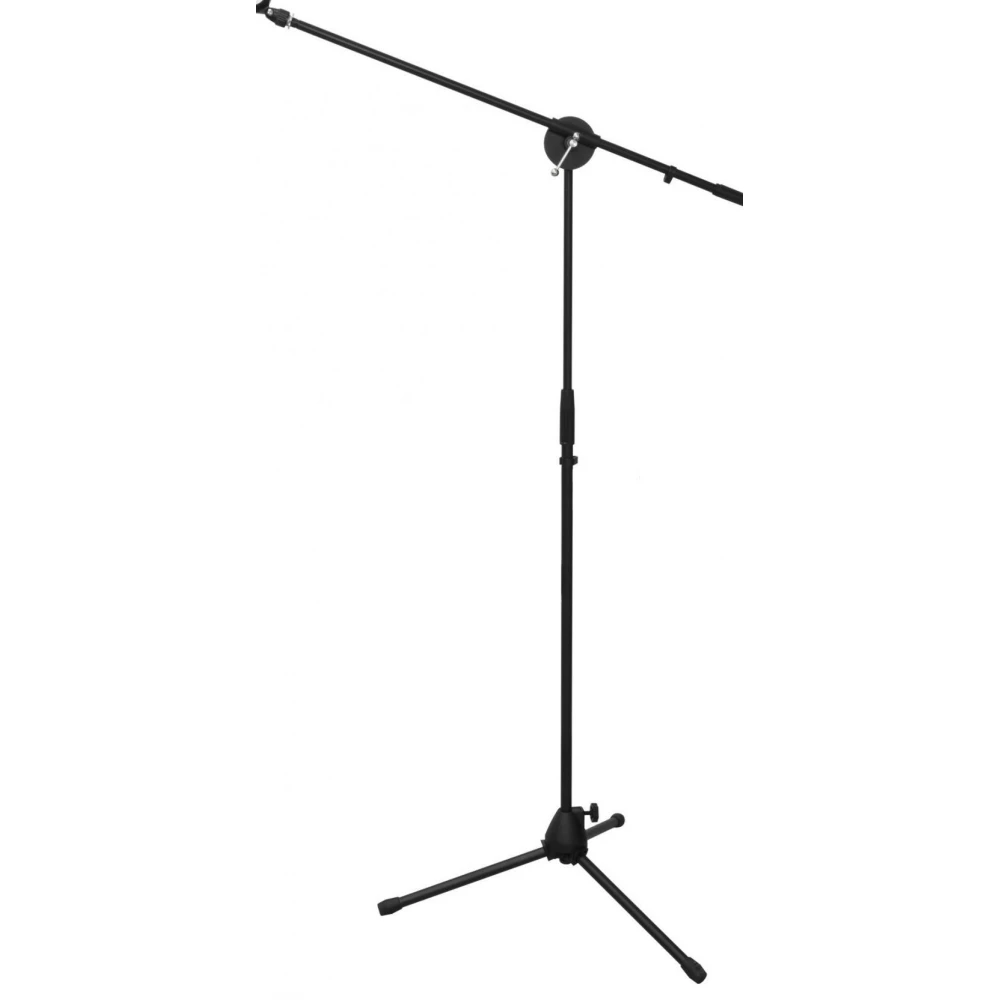 Boom microphone stands are almost identical to the standard stands. They come with attached boom arms that allow you to adjust the position of the microphone at a comfortable angle. They offer complete flexibility and support live performances while being seated. 
3- Microphone desk stand:
You would find a microphone desk stand to be the most popular among other stands. A microphone desk stand is also called a table microphone stand or a mini microphone stand. Due to the rise of live streaming, gaming and podcasting, people use a microphone stand for a desk that fits perfectly in a congested space. It's convenient to set it up by simply mounting it on the table. When looking for a microphone stand for a computer, getting the best desktop microphone stand is your go-to option. 
4- Overhead mic stand:
An overhead microphone stand is usually the most expensive one among all types. It isn't easily available in local shops either. This tall microphone stand is mostly used by professionals belonging to the fields of filmmaking and music. It helps in setting the microphone at challenging angles from a high point, providing firm support.
5-  Low profile stands:
The low profile stands have a short height and boom arm used for kick drums and guitar cabs. You can adjust the height of this short microphone stand to some extent.  
6- Studio Boom stands:
A studio boom is a heavy-duty microphone stand that you can consider as the best microphone stand for studio recording. This stand can extend up to 6 feet without using a boom and is perfect for setting overhead angles, miking choirs and orchestra. Studio booms comprise a wheeled base for easy portability and counterweights for optimal balance. 
7- Adjustable desk boom arms:
It wouldn't be wrong to call an adjustable desk boom arm stand the best microphone desk stand for podcasters and live streamers. This mic stand allows instant repositioning with ease as it is equipped with the scissor mechanism found in table lamps. The shock dispersion feature prevents the desk vibrations to reach the mic. Also, you can clamp this stand onto your table conveniently.  
8- Specialty mic stand:
These stands are customized and their particular design serves specific purposes. Furthermore, this top-quality heavy-duty microphone stand might come with wheels to help with transportation. This fully adjustable microphone stand features a counterweight to gain the perfect balance and flexible height range to extend at a  maximum length. 
Microphone stand attachment and accessory: 
Many parts of a microphone stand add up to its functionality. While you may find a plethora of stand accessories in the market when looking for a microphone and stand set, so we have shared some of the most prevalent parts of a microphone that you must know about below. 
1- Pop filters: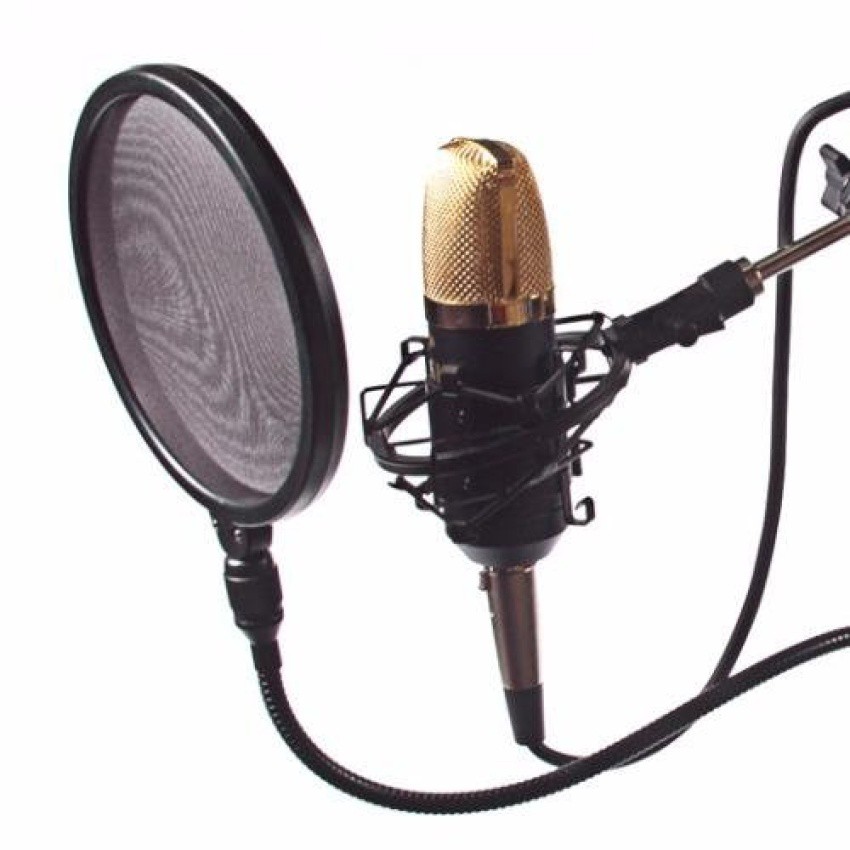 A microphone stand with a pop filter can help with your vocal recordings immensely. It allows you to prevent unwanted plosives, sounds of choking up and bad proximity effects. The many types of pop filters include foam, nylon and metal covers. Moreover, you'd often find a pop filter fixed in front of a condenser microphone stand, most suitable for studio recording.
2- Microphone stand attachment:   
Microphone stands often come with several beneficial attachments like boards for keeping music and lyric sheets, cupholders, phone and tablet holders, and headphone hangers allowing you to place everything significant in front of you during recording sessions. 
3- Microphone clip for stand:
A microphone clip for a stand gets attached to the mic stand for holding the mic. The mic holder clips go well with both- the standard mic stands and a desktop microphone stand. You can also look into a table clamp microphone stand for mounting the stand on your desk. 
4- Quick-release adapters: 
Those who often switch their mics while performing can benefit from quick-release adapters the most. The two-part adapters fit on the edge of regular ⅝-inch threading of a mic stand and allow you to change mics quickly.  
5- Stereo Bars:
Stereo bars help you position two mics at a time using the same mic stand. It comes in handy when you need your microphones placed at specific angles involving accurate distances. 
Our Recommendations:
When searching for a "microphone stand near me" to find the best shops, you often get flustered looking through the overwhelming stores and options available in the market. So, we have shared our top recommendations with you to help make quick decisions.  
1- Proline mic boom stand MS112- mic stand- best buy
Features:
Material:
Metal
Item weight:
7 pounds 
Dimensions:
17.7 x 7.7 x 3.7 inches
Why we chose this?
Proline MS112 is the best desktop microphone stand that provides top-quality recording. The sturdy base protects it from tripping over. Moreover, it's easy to make length, height and angle adjustments. Also, it's an excellent heavy-duty condenser microphone stand.  
Pros: 
Suitable for recording kick drums 
Very stable and easy to set up 
Good value for the price 
Con:
None 
2- Samson MK-10 microphone boom stand- Best stand microphone 
Features:
Colour:
Black 
Item Weight:
1.5 kilograms 
Dimensions:
25.5 x 3.5 x 3 inches
Why we chose this?
The Samson MK-10 microphone boom stand is pretty lightweight with a tripod base. It's an excellent microphone stand for recording live sessions. The steel construction makes it durable and reliable for supporting lighter mics. 
Pros: 
Foldable design 
Easy to transport 
Sturdy construction 
Con:
Not suitable for heavy-duty microphones 
3- Hercules MS432B – Best microphone stand for Piano 
Features: 
Colour:
Black 
Item weight:
4.55 Pounds
Item Dimensions:
3.74 x 31.69 x 3.74 inches
Why we chose this? 
Hercules MS432B is the best microphone stand for studio recording given its price value. This stand has a nonskid tripod base and ensures the security of the mic attached to it. Moreover, it's a great microphone stand for a piano. 
Comes with a telescoping boom
Incorporates die-cast metal tripod base 
Affordable 
Con:
None 
4- K&M mic stand with telescopic boom arm- professional recording stand mic
Features: 
Colour:
Black 
Dimensions:
33.46 x 4.33 x 3.15 inches
Adjustable height:
35-1/2-inch to 63-1/8-inch
Adjustable boom:
18-inch to 30-1/4-inch
Why we chose this? 
K&M 21090 is an exceptional choice to use as a professional recording microphone stand. It's an industry standard, weighted microphone stand that can provide complete stability to your mics. Furthermore, it's the best stage microphone stand for touring and live performances. 
Pros
Incorporates swiss steel
Easy to transport 
5-year warranty 
Con: 
None 
5- Atlas MS20- best stand mic 
Features
Colour:
Ebony 
Item weight:
14.15 lbs
Dimensions:
37 x 20.6 x 2.65 inches
Why we chose this? 
Atlas MS20 has a weighted 12- inch round base. This stand provides complete stability to boom arms and mics. It is rust-resistant and has sturdy clutches. Furthermore, it has a solid build.  
Pros
Heavy-duty 14 lbs base 
Provides extra stability 
Best buy microphone stand 
Con: 
A bit pricey 
6- Rode nt1a stand- best mic stand for desk
Features: 
Colour:
Black 
Clamp base:
1.8 inches 
Item weight:
2.03 lbs
Dimensions:
21.26 x 5.63 x 3.03 inches
Why we chose this? 
If you're looking for the best desk microphone stand, then Rode nt1a is your go-to choice. The whole package includes a mic stand, table mounting clamp and a pop filter foam, making nt1a the most preferable tabletop microphone stand. 
Pros
Most suitable podcasting microphone stand 
Solid construction with spring boom arms
Pop filter foam provides clarity during recordings 
Con: 
None 
7- Blue yeti mic stand-  best buy
Features 
Clamp base:
1.8 inches
Item weight:
1.3 lbs
Dimensions:
15.63 x 4.61 x 1.93 inches
Why we chose this? 
Blue yeti is fully height adjustable and helps you to set fixed angles. Not only it's good enough for live streaming but also pretty excellent as a gaming mic stand. The set includes a mic stand with boom arm, pop filter foam, cable management sleeve and table mounting clamp. 
Pros
Sturdy construction 
Doesn't slip and ensures mic security 
The pop filter provides a clear recording of sound 
Con: 
Recommended only for lighter mic models 
Things to consider in a mic stand: 
Having basic knowledge about the components of a mic stand can help you select a good-quality stand while buying one. 
1- Height Range:
Mic stands always feature height adjustability. While the standard ones offer extensions between 35 inches to 65 inches, some stands come with a much higher or lower range. The low-profiles usually offer a shorter range between 8 to 10 inches. Depending on your needs, you can choose a stand that caters to your particular height measurements. 
2- Clutches: 
Clutches help you tighten your mic to the stand, therefore, they are important to consider.  There are two types of clutches. One is a twist type while the other is a grip type. The twist clutch allows you to turn it multiple times for locking the mic in place. The grip clutch requires only a single squeeze to fasten the microphone. You mustn't compromise on the clutch quality and invest in the high-end ones only.  
3- Base: 
Both flat and tripod bases provide good stability. However, tripod ones are often foldable and lighter than flat bases so, they are easy to transport. You can decide between the two types by evaluating the weight of your mic and other equipment that would attach to it, to get complete support. 
4- Portability: 
The easy portability of the mic stand doesn't necessarily depend on the weight. Here, you'd need to be careful while making a choice. Sometimes, the lighter stands are difficult to move, whereas the heavy-duty ones are easy to transport. You won't most likely face any issues with your mic stand if you invest in a high-quality one. 
Final Thoughts: 
The overwhelming models of mic stands can fluster you. So, the first step would be deciding on what type of mic stand you need to fulfil your purpose. After that, you can look into the specs of the stand and buy suitable accessories required for your project. 
If you have anything more to add to this guide, let us know in the comments.   
For more related articles: Best ASMR Microphones