Last updated on August 3rd, 2022 at 07:56 pm
Shoes are part of an athlete's armor. They have the ability to enhance the performance of a player when it comes to a game like a tennis that requires swift movements and traction. The right hard-court tennis shoes would not only improve your performance but also enable you to do your best for consistently longer durations.
Finding the finest hard-court tennis shoes can be a hectic task.
How to choose the perfect hard-court tennis shoe?
There are countless factors that need to be considered before selecting a shoe. It is important to be aware of these factors before you make a choice. Read ahead to find out what makes a good shoe:
The first thing we will talk about is the material of your shoe. What your shoe is made of will have a great impact on its quality and determine its durability. A shoe made from a strong material would provide sufficient support during high tension play. A good quality shoe will provide a shock-absorbent design and not die on you two weeks into its usage.
Just as important is to buy a shoe made from sturdy material, it is equally important to own a hard-court tennis shoe that is comfortable. A comfortable shoe will allow you to do well for longer hours without any discomfort.
It is important to consider a shoe that is not only comfortable but also breathable. Breathability provides with adequate ventilation that increases the overall comfort of your feet.
The first thing that comes to mind whenever investing in a product is durability. You want a product that is worth your money and will deliver peak performance for an extended period of time. The same is for hard-court tennis shoes. Regardless of the terrain, strain and, wear and tear that shoe experience in the lifetime fi a game. A good quality tennis shoe should be able to persevere.
When talking about comfort for sports shoes, you have to consider the cushioning too. Since games like tennis put a lot of strain on your feet it is important to choose a shoe with good cushioning so you can perform better for longer. Cushioning will provide some extra padding, reducing the force of impact every time your feet touch the ground.
While it is important to consider the insides of your shoe it is equally important to consider the outside too. The outsole of your shoes has direct contact with the ground. Based on the terrain of your field or court choose a shoe with an outsole that provides good traction and absorption specifically designed for that terrain.
Another addition to the internal structure of your shoes that will add to the overall comfort is the insoles. After outsoles, your insoles feel the direct impact of hitting the ground, and thus it is important to have properly sized insoles that fit well inside your shoes provide you with the necessary comfort and support you need.
So far, we have discussed the attributes and materials that make a good shoe. For the right fit, it is important to know the circumstances of your play. Where you'll be performing maters too and thus we need to consider the court surface.
A game like a tennis, although confined to a court, can be played on a variety of surfaces. The type of terrain will dictate the type of shoe that will work for you. There are several three types of court surfaces namely: hard, soft clay, and grass.
Hardcourt surfaces are made from a sturdy material such as concrete and require a shoe that can take the wear and tear of hard surface contact. A durable tennis shoe with a resilient outer sole and adequate cushioning would suffice.
Soft clay surfaces usually accommodate to slower-paced games compared to hard court. For such surface shoes with sufficient traction and lateral support are best. A sole grip would provide great performance without leaving skid marks on the court's surface.
The grass is soft so you do not need any extraordinary endurance. However, what you will require is a good grip since grass tends to be slippery. It would also be better to have a flat outsole, so the surface does not get ruined.
What if you do not have a fixed location and like to mix things up then opt for shoes that are versatile. Multi-court shoes are available, and they are a good investment as you don't have to buy multiple shoes to cater to various court styles.
Your playing style will determine the type of wear and tear your shoes will be facing. This way you can focus on the targeted areas that get the most impact.
A baseliner has to effectively move from side to side on the court. For such activity, durability is key for perfect support.
A serve and volley player has to move more forward and backward rather than left to right. A durable toecap and well-fitted insole are necessary for the foot's protection.
List of the 8 finest hard court tennis shoes
We reviewed countless products and chose the top 8 best hard-court tennis shoes for you to consider.
1. Asics Court FF 2 Novak
Features
Color: Burgundy/White

Manufacturer: ASICS
Pros
Effortless to slide

Assistance

Used by Novak Djokovic
Cons
Used by Novak Djokovic who ranked No. 1 in men's singles tennis, we have the Asics Court FF 2 Novak. Advancement of the original; Court FF, the FF 2 has stayed true to its roots with all the basic qualities that added to its popularity. Ultra-responsive Flyte Foam cushioning and the Mono-Sock construction to name a few.
The novel additions are the supportive upper that has been redesigned with a combination of TPU materials and mesh. And for better strength and grounding, new outsoles have been included that provide better control. It is a good hard court tennis shoe due to its sturdy outsole however, sometimes it does not provide good balance.
2. Adidas Men's Solecourt Boost 
Features
Color: Black/Flash Orange/Carbon

Manufacturer: Adidas
Pros
Side support

Lightweight

Used by Stefanos Tsitsipas and Dominic Thiem
Cons
The lightweight feel with enough ankle support. That is what you get with the Adidas Men's Solecourt Boost Tennis shoe. It is a popular hard court tennis shoe and provides enough support to move freely on the court.
With ample lateral support, you make smooth transitions every time you turn. It keeps you quick on your feet but with a sense of grounding. It is has gained massive popularity for its TPU chassibumpout. Even though it advertises stability some users found it a bit shaky.
3. Asics solution speed
Features
Color: White/Black

Manufacturer: ASICS
Pros
Steadiness

Lightweight

Used by Alex De Minaur
Cons
We have already discussed an upgraded model of this tennis shoe, but even its older version brought so much to the court that we cannot ignore it. The Asics solution speed FF tennis shoe is the quickest shoe on the court.
It offers unmatched cushioning thanks to the Flyte Foam cushioning technology provides with a great lightweight stride. It is perfect for hard court surfaces because it has a unique modified herringbone tread patterned outsole that provides its users with a strong grip.
It is famous amongst professionals and endorsed by many. It has great ventilation and stability due to the intuitive and soft fit of its upper. However, it does cause some problems when sliding but nothing much that is not bearable.
4. Babolat Propulse Rage
Features
Color: Babolat

Manufacturer: Blue/Fluorescent Yellow
Pros
Sustenance

Stability

Sturdiness
Cons
Durability, stability, and support, these are some of the words that can be used to describe the fourth hard court tennis shoe on our list, the Babolat Propulse Rage. It is one of the most stable shoes we have reviewed so far. Its stability is matched with comfort as Babolat created the right balance that is needed by professionals to perform their best.
It is a bit stiff on the first try but fits comfortably once broken into. It has a sturdy and durable design that provides the user with seamless stability. This makes it perfect for hard court surfaces. It is not as lightweight as some of its competitors but not something you can't handle.
5. ASICS Men's GEL Venture 5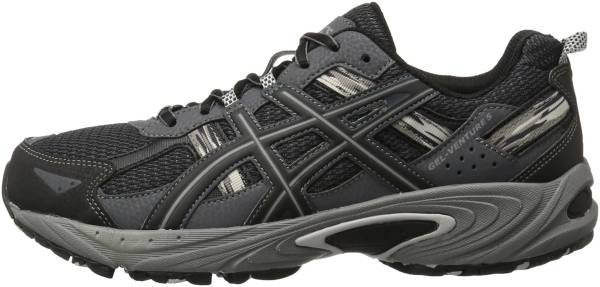 Features
Color: Black/Onyx/Charcoal

Manufacturer: ASICS
Pros
Premium cushioning system

Comfortable

Mesh upper

Removable sock liner
Cons
The ASICS GEL Venture 5 is a popular item and has received praise from many. the many reasons that contribute to its popularity include and are not limited to its synthetic build. These tennis shoes are made with 100% synthetic material and include a rubber sole for added comfort. It provides ample support and shock absorption thanks to its midsole cushioning. The rear and front consist of gel cushioning which is an excellent addition to its already comfortable design.
It also has a breathable structure, perfect for our long hours of exertion.
Irrespective of its many merits there is an issue with its toe box. It is not that great and thus wears out rather quickly. This takes a toll on the durability of the shoe. In retrospect, the gel cushioning provides so much comfort and shock absorption that it becomes almost okay to ignore the durability issue.
6. Adidas Men's Barricade Club
Features
Color: White/Black/Grey

Manufacturer: Adidas
Pros
Good mid-foot torsion system

Improved support

Cushioning under the heel
Cons
The sixth hard court tennis shoe we will be reviewing for you today is the Adidas Men's Barricade Club. You would often notice that many people will acquire these for their training period because they can handle aggressive training.
The rubber sole provides great traction and a strong grip perfect for lasting long hours on the court. Quick movements and firm stride both can be achieved with a lightweight model such as the Barricade because it is made from 100% textile material. Its inner sole can be removed to fit any size. It is a decent basic tennis shoe however, it lacks durability and has poor lacing design.
7. Nike Men's Air Monarch IV
Features
Color: White/Metallic Silver/Midnight Navy

Manufacturer: Nike
Pros
Perfect for fitness training

Suitable for sports

Durable

Sufficient support

Maximum comfort
Cons
Reviewing sports shoes and not including Nike is almost impossible. Every year they launch amazing shoes that provide great support to sportsmen. For tennis, the Nike Men's Air Monarch IV provides a great combination of leather and synthetic design for long-lasting usability. Its main and outer sole is rubber-based that provides utmost traction and full support.
It has a breathable design and thanks to the leather.
It is not a lightweight shoe but provides great traction, grip, and support. It is works well with all sorts of surfaces but especially well with hard court surfaces. Just beware, it will leave a dent in your pockets.
8. Prince Men's T22

 
Features
Color: White/Navy/Silver

Manufacturer: Prince
Pros
Breathable design

Perfect outsole

Stability

Shock absorption
Cons
Expensive
Unattractive design
The last tennis shoe we will be reviewing today is the Prince Men's T22. It has a high-quality rubber sole that provides the utmost grip and maximum traction. Made with a combination of meth and synthetic it offers a breathable design with great airflow.
It is well cushioned and has even greater support thanks to its TPU shank. It saves your heels and ankles from pressure thanks to its Shock Eraser feature. With a PRC 1000 outsole, you can expect great stability on the hard court surface.  But be prepared to pay for it all, literally. It is quite expensive.
Conclusion
A tennis game requires strength, agility, and speed. To be the best at what you do you require the perfect shoe that can keep up with your pace. But finding one can be a hectic task. For that, we reviewed some of the best products on the market.
Surely if you choose one of the products from our list based on your requirements you will never have to see a tough day on your hardcourt ever again
FAQs
1. Is speed or stability more important in tennis shoes?
Both speed and stability play a crucial role in the performance of a tennis shoe. It is basically a tradeoff between the two. Heavier shoes provide more stability, but lightweight shoes bring more speed. if you must choose then go for stability. You need to hold your ground, all while making swift movements.
2. Can I wear clay court shoes on hard court?
Yes, some shoes are multi-faceted and can work well on all sorts of surfaces be it soft clay or har court. Even a shoe that is only made for clay court can be worn on a hard court but it will not provide with enough cushioning and traction.
3. What makes a tennis shoe different?
Tennis shoes are different from regular sports shoes as they provide you with all the necessary attributes for the perfect play on all sorts of surfaces. They have added support and cushioning, as well as traction and stability to cater to all tennis needs.
4. What is a hard court tennis shoe?
Hardcourt tennis shoes are shoes that have abilities to function properly on the hardcourt surface. They feature stability, cushioning, and added support.
5. Can you wear tennis shoes off the court?
They can be worn outside off the court but it is not recommended. The everyday wear and tear will take a toll on them and reduce their performance.
6. What is the difference between tennis shoes and sneakers?
Tennis shoes are specifically designed for the sport and hence, incorporate all the extra features needed for perfect performance. Sneakers on the other hand are everyday shoes and lack the technicalities of sports shoes.