Last updated on July 26th, 2022 at 07:45 am
Combining functionality with design, today's best diver watch under 500 is capable of offering the best features. Fulfilling the very purpose of a diving watch, you will find a wide range of configuration from automatic movements to premium features such as Sapphire crystal, exchangeable straps, and matching steel bracelets with dive extensions.
Things to consider before buying | Best Diver Watch Under 500
Choosing the best inexpensive dive watch without compromising the quality can be overwhelming, especially if you are not aware of what to look for or if it is your first time buying the best inexpensive dive watch.
Well, we have made this comprehensive guide to help you out in making the right decision when it comes to looking out for the best features that help in enhancing the performance of the watch.
Water resistance 
Speaking of what diver watches are made for, it is important to measure the depth it can take without concern of being damaged by water. Water-resistance is a rating to determine the maximum depth of water a watch can take. 
Here is the capability of a watch as per the water resistance rating;
200 meters:

You will find the best divers, aka diver watch, with a water resistance of 200 meter, which is more than enough for diving, swimming, and water contact for any period of time. 

100 meters:

Whereas there are watches with 100 meters of water-resistance rating, but they are okay-ish for swimming, but not diving. 

30 to 50 meters:

Besides 100 meters and 200 meters water-resistant watches, you will also see divers with 50 to 30 meters of resistance in the water. Speaking honestly they are generally just "splash-resistant", which means they are fine to wear for a daily routine where you just have to encounter rain or eater splashes from washing hands. 
How to find the best water-resistance?
Well, this rating is not hard and fast. The resistance for water is measured and tested at the time of manufacturing, which means that with time when the parts or the components of a watch degrade or wear after time, the originally measured water resistance rating may not stand to the same degree. 
Dive Bezel
Dive bezel rotates and allows the user to track the elapsed time, generally up to 1 hour. This feature comes really handy to the divers to gauge how much oxygen is left in their oxygen tanks before they need to resurface. 
Lifesaving!
Dive watches now can be worn to time just about anything. You can time work break. Pizza in the oven, nap time or any other thing. They are exceptional when it comes to day to day life. 
Types of dive bezel
Speaking of the dive bezel, you will see two most common types that offer the same functionality, but a configured differently in a watch.
The most common bezel is usually outside the watch, on the case.

The other type is often called "Super Compressor". They are installed inside the watch. 
ISO certification 
There is always a set of standards to measure the quality of a watch. ISO certification offers a set of specific requirements that are necessary for a dive watch to be functional under deep water.
This feature is usually seen in high-end, expensive watches, but you can find the affordable options that come with ISO certification. This feature is not necessary for everyone unless you are a professional diver. Looking for an ISO certified watch adds additional security to your watch under water. 
Lume 
Lume, in simpler words, is a luminescent paint that is used on the parts of the watch that needs to be visible in the dark. The Lume is charged up by direct lighting, and emits glow in the places where it is dark. 
It is important to note that all Lume is not the same when it comes to brightness and longevity. Some watches offer exceptional Lume that glows in the dark and under deep water brighter as compared to other alternatives. Besides the brightness, high-end Lume last longer.
Legibility 
Being legible in one glance is what a dive watch must be capable of. Go for a watch that offers higher legibility, which helps in better and fast reading or understanding of the time. Best luxury dive watches are expensive but they come with a high-end Lume. with small and nor clearly visible numbers and hands, it becomes frustrating and useless for divers to have a watch. 
Display 
There are two different types when it comes to the display of the watch; analogue and digital. This factor solely depends on personal preference. If you are comfortable with a digital display and you feel like it will assist you better, go for it, and if you are into a classic and traditional look, analogue is the one for you.
Choosing the display solely depends on your personal preference. Go for the display that you are most comfortable with as it will help in increasing the performance of the watch and convenience. 
Accuracy (Movement) 
The most important is to understand the movement of your watch as it directly and significantly affects the accuracy of the time to the second. 
There are two basic types when it comes to the movement.
Mechanical watches have hand-made components inside the watch that moves in order to keep the watch ticking. In mechanical watches, you need to wind the watch manually, which does not only require time and again winding, but if you forget to wind the watch it can leave you stranded without time unless you find another source to set the right time – accuracy compromised. 
Quartz (Eco-drive or automatic):

 
Quartz or eco-drive, the automatic watch does not need to wind manually. The only thing you need to do is wear a watch. These watches have a rotor inside that keeps spinning with the movement of the wrist of the person wearing it. You can also find some best automatic watches under 500 that do not compromise the quality.
Additional factors 
Besides the technical bits of a watch, you need to look for other features that can enhance the working, durability, and appearance of your watch. Getting the best diver watch under 500 is not a problem if you are sure of what to look for.  
Build quality; it enhances the life of a watch.

Longevity or durability; eliminate the need to change or repair the watch time and again.

Brand; no doubt with bigger brands, comes high-quality.

Price; for more professional use, invest in a good watch that will last longer instead of a cheap watch that would not last long. 

Colours; colour options for the strap enhances the versatility of the watch.

Design and style; to make you watch an allrounder, go for the design that complements your personality. 

Adjustable or interchangeable straps or bracelet; it enhances the multifunctionality of the watch as per your need and requirement.
Top 6 best diver watch under 500
Here are some of the best diver watch under 500 that offers the best performance and quality at a reasonable price. 
1. Citizen Men's Eco-Drive – the best professional dive watch
Specifications 
Movement: Eco-Drive Solar

Display: Analog

Case Diameter: 48mm

Band Material Type: Rubber

Band Width: 24mm
Calling out all the adventure seekers and professional, this watch is designed to give the best performance under adverse conditions. Embellished with the best features and innovative technology, this watch comes first on our list. 
Citizen, keeping quality, performance, durability, and comfort a priority, offers polyurethane band that comes with an extender so that you can easily wear it with a wetsuit. The eco-drive technology powers up the watch using natural or artificial light, which eliminates the need for batteries. 
Pros
Easy to read dial

Eco-drive technology

Rubber band with buckle closure

Stainless steel case

Japanese quartz movement with analogue display
Cons
The rubber band is a little annoying and inconvenient on direct skin.
2. SEIKO PROSPEX BLACK – best dive watches under $500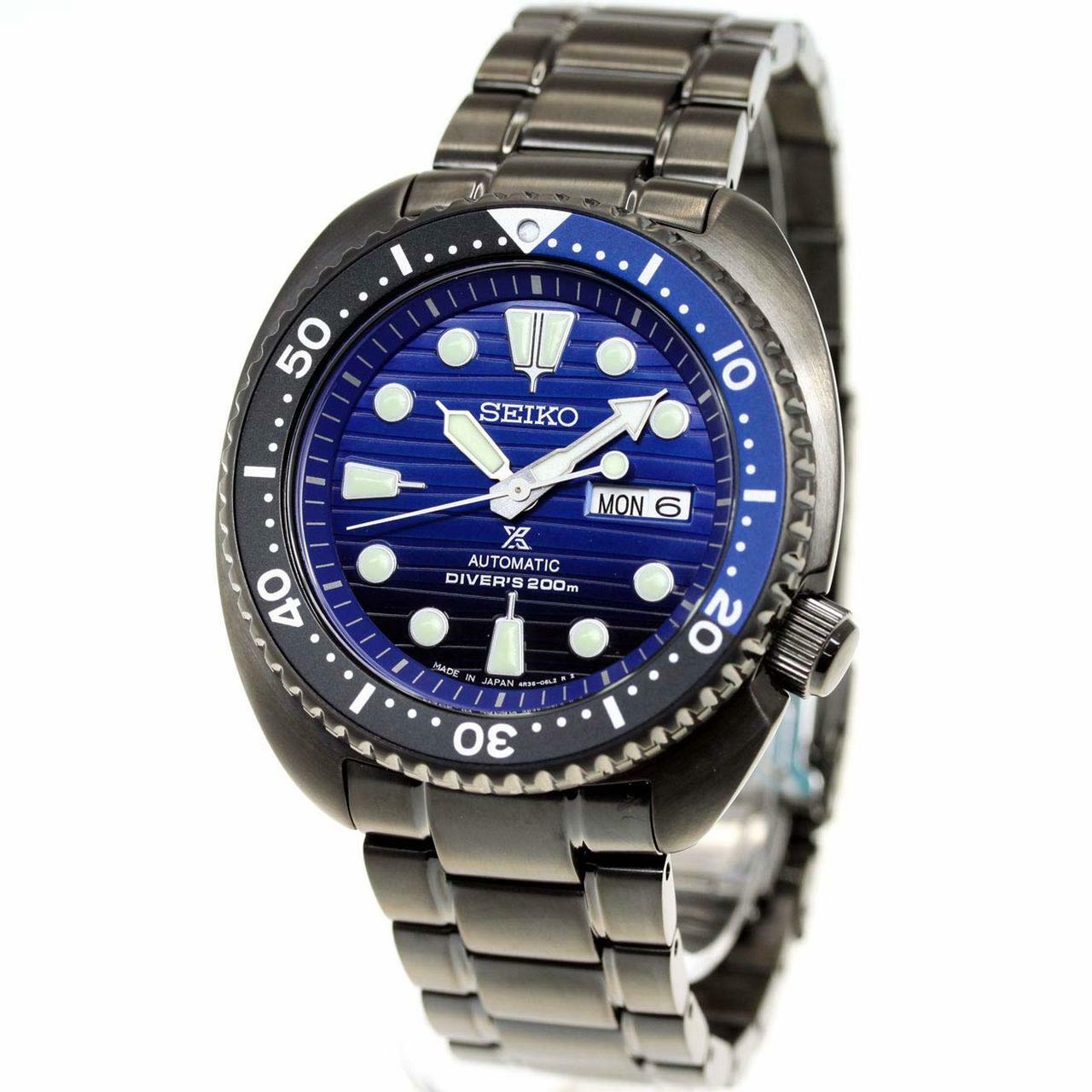 Specifications 
Movement: Automatic

Display: Analog

Case Diameter: 45mm

Band Material Type: Stainless steel, Black-ion plated

Band Width: 22mm
Wanna feel just like a mission on black ops, this watch is the one for you. This all-black-everything diver watch is perfect from an architectural flair to casual outfits and wetsuits. This watch stands its ground for the best inexpensive dive watch under 400 with its larger case that stands out at 45mm. The ion-plating finish not only makes it the most durable but also classy and stylish. 
Pros
Automatic movement

Stainless steel case offers durability

Safety lock feature

Luminous hands offer bright visible display
Cons
Hardlex crystal reflects too much light.
3. CASIO G-SHOCK RANGEMAN GW9400 – best digital diver watch under 500
Specifications 
Movement: Quartz

Display: Digital

Case Diameter: 53mm

Band Material Type: Rubber

Band Width: 22mm
Speaking of the best dive watches under $300, Casio G-Shock is one exceptional piece that offers the best quality, durability, and also functionality in almost every kind of environment. 
Being a little bulkier than other dive watches, this watch has a resin that offers better shielding to the casing from vibrations and shock. It uses Casio's solar technology, which means it charges itself using artificial and natural light, despite how weak the source is.
This watch ensures a more practical appearance with its digital face, which perfectly distinguishes it from traditional dive watches. 
Pros
Solar power

Quartz movement Analog display

Protective mineral crystal dial window

Digital compass, altimeter, barometer, thermometer, sunrise and sunset date

Daily alarms with snooze

Water resistance up to 200 meters
Cons
4. Seiko Prospex SRPD11 Automatic Divers Watch- best scuba-diver watch
Specifications
Movement: Automatic with Hand Winding capacity
Display: Analog
Case Diameter: 45 mm
Band Material: Stainless Steel
Band Width: 22 mm
This best diver watch under 500 is exceptionally remarkable. The manual movement it allows is automatic with hackable second hand having a Calibre 4R36. Its construction makes it robust and sturdy as it is specifically designed with stainless steel case and band. When it comes to the diameter of the case, know that it comes in 44.5mm, and the case is 13mm thick. The Seiko Prospex also offers a safety lock feature. The diver watch displays day and date also. Being water-resistant, this watch is a smart choice to go for!
You will also get a warranty and manual cards with this watch.
Pros
Adorable design
Hand winding movement
Sturdy
Black PVD coating
Warranty
Cons
Hardlex crystal reflect light
5. Glycine Combat GL0081 Diver Watch- the best professional dive watch
Specifications
Movement: Automatic
Display: Analog
Case Diameter: 42 mm
Band Material: Stainless Steel
Band Width: 22 mm
This diver watch is made of amazing quality as stainless steel is used for its manufacturing. The movement of this watch is automatic and when it comes to the display, know that it is analog. Being an ideal watch, know that the diameter of the case is 42 mm and the band width is 22 mm. This watch has excellent construction efficiency. And as compared to other consumer watches, this one is much superior. It is, after all, expensive as compared to those.
In bright light, the blue on the face shows beautifully. The gold is not too dazzling, but it adds a soft touch. It is too flashy, but it strikes the right balance. The bracelet is true of excellent design.
Pros
Good quality
Beautiful design
Sturdy
Cons
6. Luminox 3059 EVO Men's Watch- best diver watch under 500
Specifications
Movement: Precise Swiss-quartz movement
Display: Analog
Case Diameter: 44 mm
Band Material: Polyurethane
Band Width: 23 mm
The Luminox 3059 is part of the brand's Navy SEAL range, which is made to military specifications. The 44mm watch is remarkably light thanks to its polyurethane shell, which is equipped with tritium gas tubes for continuous illumination. This rugged diver, with a Swiss quartz rotation, an orange dial, a unidirectional dive bezel, and a contrasting black rubber strap, is designed for the most demanding of environments.
This watch offers easy to read display and for sure, you are going to love it!
Pros
Decent buildup quality
Unidirectional dive bezel
Easy to read
Cons
Runner up diver watches
Here are some of the diver watches that offer decent performance, quality, and functionality that can be trusted without any questions asked. 
ORIENT RAY II –

a cheapest luxury dive watch

VICTORINOX SWISS ARMY INOX –

the best multipurpose diver watch

GLYCINE COMBAT SUB –

the most versatile casual and formal dive watch

BULOVA Precisionist CHRONOGRAPH –

the best maximalist multi-dial dive watch
Conclusion 
The question of finding the best watches under 500 comes to the only answer; research and review. To make sure the product you are going to purchase meet all the standards along with your personal preference. Once you are sure why, when, where, and how much will you be wearing the watch, you can easily prioritize what makes any watch the best for you.
Thought of best budget vintage watch, CLICK HERE. Field watches are as strong and durable in performance as divers watch. If you are looking for an alternative to a divers watch in best value, have a look at the best field watches under 200 that won't disappoint you in any way.
FAQs
What is the best diver watch under 500?
Speaking of quality and durability, ORIENT RAY II is the best dive watch. It is highly revered closest to a ROLEX SUBMARINER watch under 200. Casio Men's Duro Analogue and Invicta 8932 Pro Diver Collection also offers the best price without compromising the quality. 

As the name specifies, diver watches are specifically designed for the divers to keep track of how long the diver was underwater along with decompression calculation, and keep a log of how much oxygen is left in the oxygen tank.  
Where can I wear a dive watch?
Being made with versatility in mind, these watches can be worn to casual meetings, business formal meetings, sports, and obviously underwater. It means that you can style diver watches to anything, anywhere. 
 What is the best watch for scuba diving?
Depending on the water-resistance rating, a diver watch can be worn for scuba diving. The higher the water resistance rating, the better the watch. SEIKO excels in producing watches that speak for itself when it comes to underwater performance. SEIKO PROSPEX is the best diver watch for scuba diving. 
What watch can go the deepest in the water?
With enhanced technology and high-end durability, there are a lot of watches that can dive deeper than a human as per their price and manufacturing. OMEGA ULTRA DEEP PROFESSIONAL diver watch holds a world record for the deepest dive.