The AirPods Pro from Apple is a major improvement over the original once. 
The standard model lets you chat with Siri and listen to your favorite music and podcasts. 
Activate functions with a tap, check the battery level, and locate lost items. 
However, you may benefit from additional fascinating features, obtain a better fit, improve audio quality, and maximize battery charge with the Pro. 
Interesting Features of AirPods Pro: 
You may do the Ear Tip Fit Test by navigating to its settings (try saying that out loud a few times).
Its microphones will play various sounds during the test, and results will show if your ear tips are the right size for your ears. 
Open the Settings app on your iPhone, pick Bluetooth, then hit the i next to the name of your AirPods Pro to start the test. 
Choose Ear Tip Fit Test, then adhere to the instructions.
There are other places where the name of your AirPods Pro appears, but you are not required to use it. 
Go to Settings > Bluetooth on your iPhone. Hit the info icon and tap the name as it is. 
The term can then be changed or deleted in favor of a brand-new name. Tap Done when you're done.
Read: Layoffs in Tech to continue in 2023
Use the stems of the AirPods Pro as buttons rather than pressing one of the earbuds.
There isn't a button there; rather, it's a pressure-sensitive area that mimics a switch's use.
It is comparable to the MacBook, MacBook Air, and MacBook Pro trackpads, which do not physically move when clicked.
Squeeze each of its flat indentations with two fingers. Each time you press, you'll hear a click in your ear.
Each button click results in the following:
Single-press:

Pause/Play

Double-press:

Skip forward

Triple-press:

Skip backward

Long-press:

Switch between noise 
Swipe Control AirPods Pro volume:
The AirPods Pro 2 has a cool new feature that lets you adjust the volume using the stems. 
Increase the volume by swipe up or decrease by swipe down. Yes, and it is that simple.
Read: Best Open Back Headphones Under 100
Tweak Accessibility Features:
The Settings > Accessibility > AirPods menu allows you to manage several features further. 
In this section, you may alter the pace at which your AirPods must be pressed to pause, play, skip forward, or move backward. 
Active Noise cancellation:
Active noise cancellation or ANC, is a standout feature.
When activated, noise cancellation almost eliminates all ambient noise, and you might otherwise hear using conventional headphones or the basic AirPods.
It can assist in blocking out talk and distractions whether you work in a noisy workplace.
On the AirPods long-presse is enough to stop noise canceling. You can also utilize the Control Center on your iPhone or iPad. 
Swipe down from your device's top right corner. When the Control Center shows up, long-press the volume slider. 
There are three settings: Noise canceling, Off, and transparency. Select the setting by tapping it.
Read: Best Microphones for Live Vocals
The Headphone Accommodations feature, which was first introduced in iOS 14. 
It improves the audio output by amplifying specific frequencies and softer tones. 
For this to function, you'll need AirPods Pro, second-generation AirPods, or something more recent.
Turn on the setting by going to Settings > Accessibility > Audio/Visual > Headphone Accommodations. 
Adjust the audio for a balanced tone over a variety of frequencies. 
Tap Play Sample to hear a sample. Softer noises can also be amplified mildly, moderately, or powerfully.
Spatial Audio:

Image courtesy by Apple
Spatial Audio, a new feature in iOS 14 and exclusive to adds head tracking and shows surround-sound effects to compatible films. 
You must have iOS 14 or later installed and the AirPods Pro firmware updated to version 3A283 or above. 
Go to Settings > Bluetooth > Your AirPods info icon > Version to activate this.
Select Spatial Audio by going to Settings > Bluetooth > [Your AirPods info symbol]. You can hear the difference by switching between stereo and spatial audio. 
Open a video that supports spatial audio now to experience it in action.
Read: Best Wireless In Ear Monitors For Singers Buying Guide 2023
You can share your audio with someone else. If the person owns a pair of AirPods Pro, normal AirPods, or even Beats headphones. 
Access the Control Center on your iPhone and press the AirPlay symbol for the current audio. It helps you to listen to something while using it. 
Select the other pair or Beats headphones by tapping Share Audio. 
The entries for both headphones should then appear. To link the other pair, tap the circle for that one. 
Now, you can adjust the level for both or independently.
Hearing Aid in

AirPods Pro:
Live Listen is a function that allows you to use them as a hearing aid. The process first adds to the Control Center on your iPhone.
To add Hearing to Control Center, navigate Settings > Control Center and press + symbol.
You should insert the AirPods Pro.
To activate the function, open Control Center, hit the Hearing symbol, and tap Live Listen. 
Put your phone close to the speaker or other audio source.
The sound will amplify if you wish to hear louder or more clearly. By pressing the entry in the Control Center, you may disable Live Listen.
Read: Which Bluetooth Speakers for Car Music is Perfect?
The battery life of the AirPods Pro is one of its outstanding qualities. 
You may go for hours without needing to charge, thanks to the case's battery and those in each of the earbuds.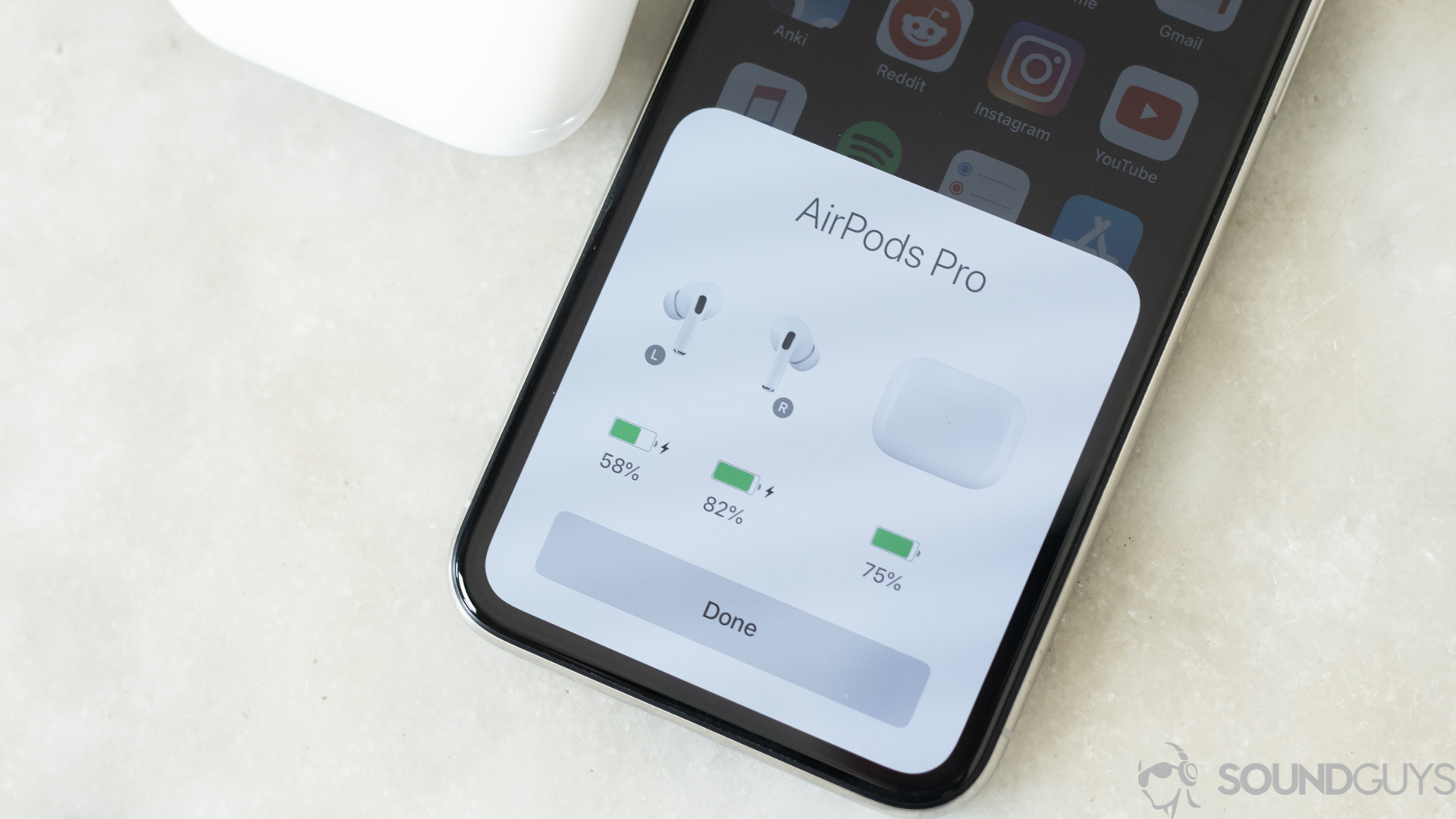 It may check the battery life of each piece and the case in several ways.
Unlock your iPhone or iPad whenever you want to check the battery life of the earpiece and charging case. 
Open the case with the AirPods within it and place it next to your device. The charge status of each piece and the case are displayed through an animation.
The battery widget is also added to your iPhone's home screen. The device will display the amount of battery life left in both the case and each when actively attached to your phone.