Last updated on April 3rd, 2023 at 05:53 pm
In addition to being functional, a staircase can also be a magnificent focus point and a bold fashion statement. 
Here is a selection of various unusual staircase designs that are useful and beautiful, ranging from dramatic and dynamic to sculptural and refined.
1. Industrial Elegance
An open staircase with a simple triangular-shaped railing provides structural support in this room with industrial design influences. 
In declining metropolitan locations with constrained square footage, it retains the appearance of being streamlined and small without taking up visible space.
2. Contemporary Vibe
This gray staircase, which hangs from the ceiling, is inspired by industrial design. The metal structure gives the stairs a feeling of seclusion and a mysterious aura.
3. Integrated Shelves
The flooring's timber tone is carried through to the stair treads. The bottom two steps have rounded edges, while the third step goes up one level and extends as a built-in low-height shelf.
4. Modern Sophistication
The floating wooden treads hang from white walls and create an eye-catching element that contrasts them. 
A row of vertical metal binders looks stylish. It serves as a railing, provides the stairway's structural support, and produces a striking visual.
5. Smooth Curve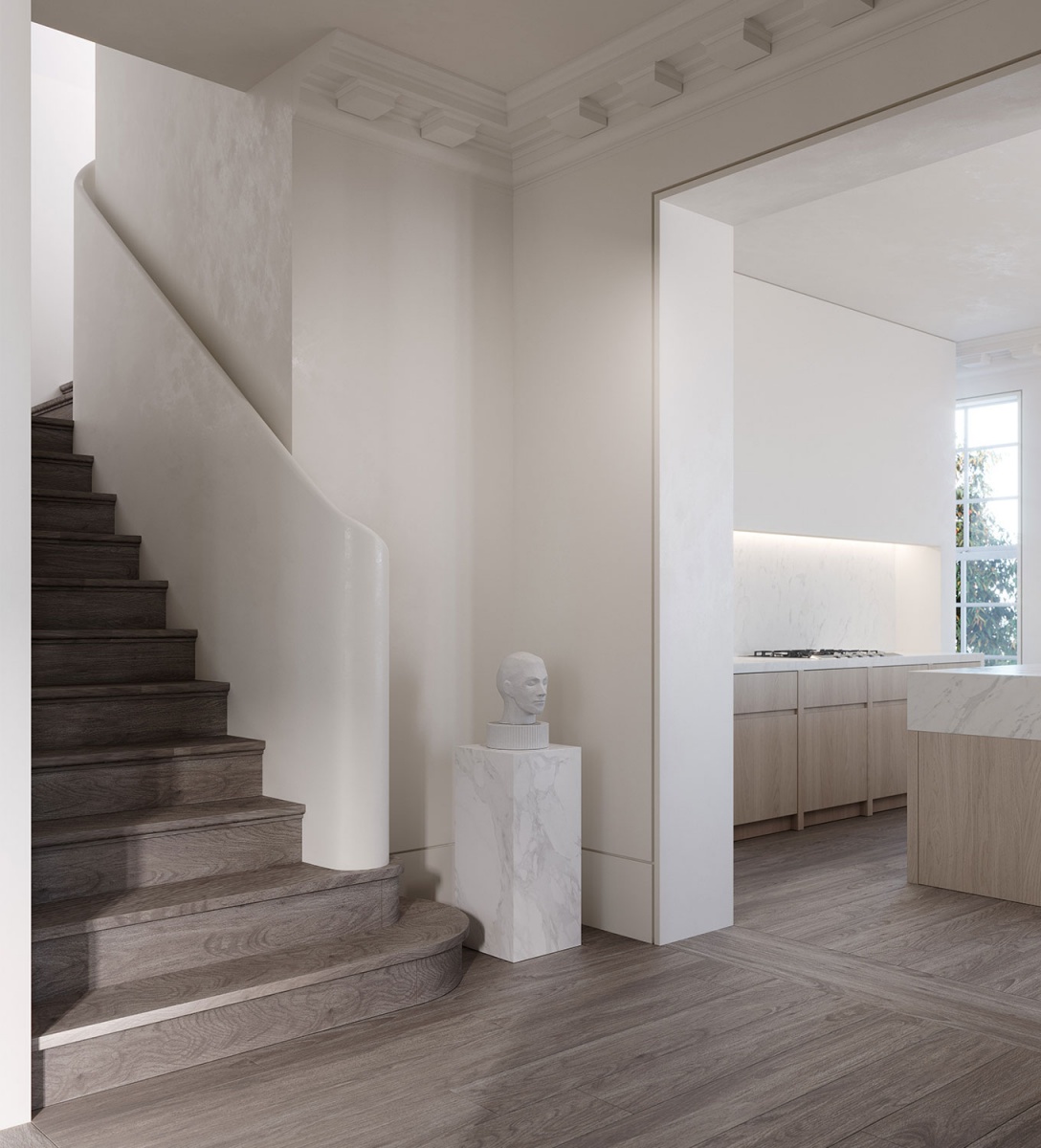 This staircase is a celebration of lavish grandeur with a balance of extravagance and restraint, and the oasis-like landscapes of the Middle East inspired it. A sculpture is used to provide visual interest in the place.
6. Textural Beauty
The open-plan home's floating staircase, lit by a skylight, gives it a bright and airy appearance. The built-in seats and exposed brick walls create a peaceful transitional area.
7. Contrasting Wood
Inspired by Nordic minimalism, the helical staircase gives the rooms a serene atmosphere. The white staircase mixes wood treads with herringbone flooring designs to create a light and open appearance.
Read: Secure Your Home: Top 5 Video Doorbell Cameras 2023
8. Triangular Elegance
This staircase, built around a triangle stairwell, features symmetrical steps that cross at the landing. The contrast between the white marble flooring and the green marble railing creates a striking composition.
9. Helical Stair
See how the cutouts and colors interact in this stunning helical staircase. The handrail's vivid green tones and tall indoor plants give this neutral area a natural feel.
10. Integrated Lights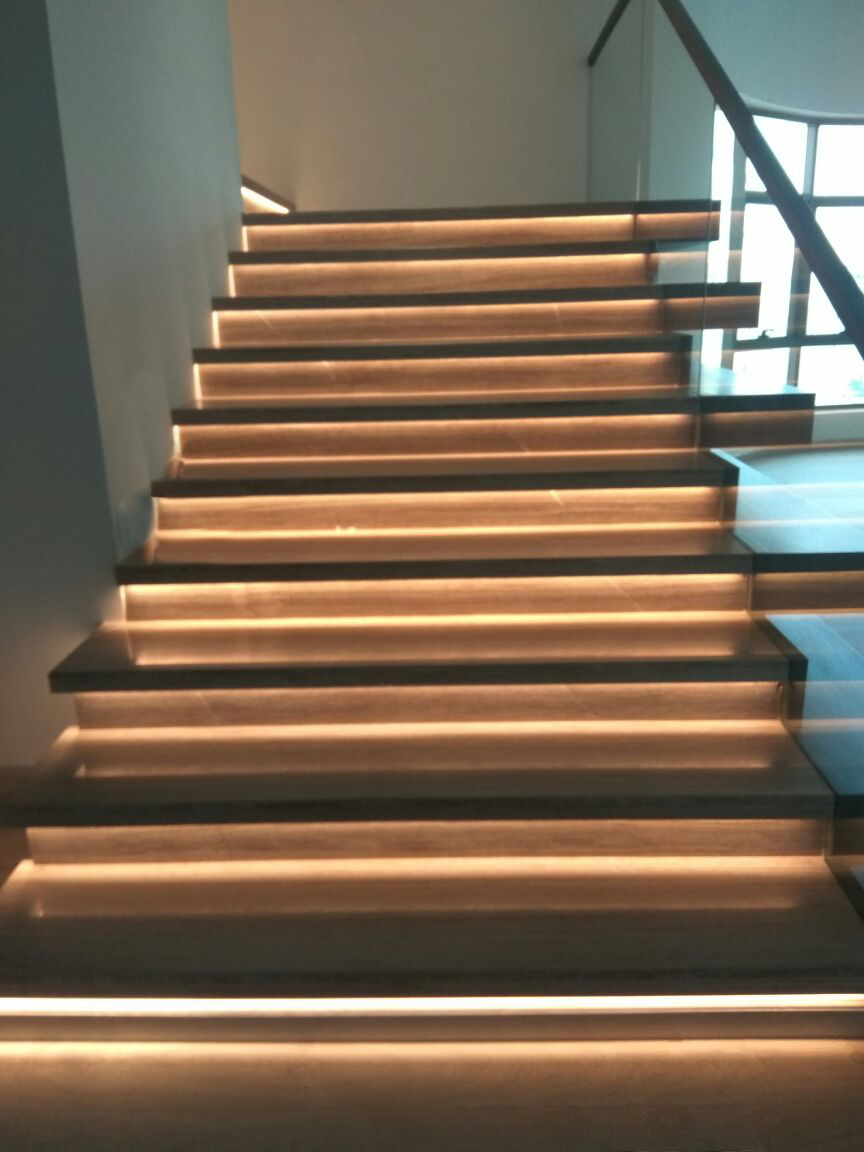 Each tread is given a luxurious feel by linear bands of LED lighting, which also make for an intriguing pattern. The glass railing adds visual lightness and completes the design.
11. Angular Composition
A giant stairway has two steps intersecting at the center landing to create a unique geometric pattern. A tall sculptural lamp in an industrial design gives the room depth and perspective.
12. Floating Treads
Although the glass railings provide optical transparency, the wood treads offer the impression of floating in the air. This open-plan home's contemporary, practical, elegant design makes a stunning fashion statement.
13. Abstract Composition
This staircase's flowing shape is a challenging technical feat and a stunning work of art. It's a fantastic approach to give the room a dramatic but fun atmosphere.
14. Textural Effect
These modern floating stairs of concrete blend in seamlessly with the landscape and look great next to the black-stepped waterfall. 
Diffused lighting enhances the layered appearance of each tread, and a border of hydrangeas in various colors softens the hard edges of the concrete stairs.
Read: How to Select an Air Purifier for my Home?
15. Steep Ladder
A ladder staircase with a sculptural character is created by stacking various triangular wooden boxes, one on the other.
16. Zen Effect
These floating staircases bring visual excitement to the outdoors and create an eye-catching picture. This all-white concrete stairway is like a Zen art project since trees and plenty of vegetation surround it.
17. Beauty in Travertine Stone
The travertine staircase contributes to the room's serene, unhurried atmosphere. 
The calm of the area is enhanced by the beautiful curves on one side of the stairs and the cream and brown tones of the travertine stone.
18. Ribbon Shape
This open staircase, made from a continuous metal sheet, produces an intriguing pattern and a sense of simplicity as one walks up and down through the room.
19. Pristine Geometry
Each metal tread has an angular design that is cantilevered from the wall and gives the appearance of floating in space. To ensure the treads' structural integrity, they are welded to steel plates in the wall.
20. Organic Swirl
The helical staircase is striking because of the massive wooden steps inside the body's clean, white surface.  The treads and risers complete the design by carrying the woody tones of the chevron flooring.
21. Sculptural Wood
Each tread is neat, rounded, and distinctive; it also has an organic sculptural aspect that gives it a look of lightness and airiness. 
Specific impressions further support when the handrail continues constructing additional steps on the higher flight of stairs.
22. Form Beyond Function
This staircase has a remarkable material and form combination as it winds around a finely built pillar. With a simple sculptural form, it becomes a show-stopping piece that attracts attention to its curves.
Read: Make Cleaning Pool Easy With Above Ground Pool Vacuum Robot
23. Warm Wood Tones
The wooden staircase's flowing design gives the open-plan area a dynamic feel. The warm tones of the Wood provide warmth to the room's overall decor.
24. Biophilia
A hint of biophilia is added to the room by the sculptural wooden staircase, which is well worth seeing. Each tread was joined to vertical wooden panels by it. 
The indoor garden and natural light soften the design and finish it. This staircase deftly achieves a robust design without overtly dominating the area.
25. Wood and Glass
A single wooden vein connects the separate steps of this clever and modern stair design beneath each tread, which features a beautiful blend of various materials. 
The glass railing gives the staircase's entire structure a feeling of visual lightness.
26. Origami Inspired Staircase
The arts and crafts style of the staircase, inspired by origami, and the practice of folding paper give the interiors a lively feel. The floating spiral form also provides the room with movement and excitement.
27. Showstopper Design
The C-shaped spiral staircase descends from the ceiling and continues on the floor. 
Many indoor plants and contrasting shades of brown and black along the stairway give this room a new appearance and create a fantastic design element.
28. Abstract Masterpiece
This metal staircase is all about curves and adds a beautiful element to room with its swirling design, curved convex handrail, and wedge-shaped treads. Please observe how this staircase combines beauty and utility.
29. Ribbon-shaped Design
The treads and railings are made out of alternating ribbon-like elements in the colors of white and brown, which also provide a dynamic geometric design.
Read: Most Trusted Appliance Brands in 2023
30. Bright in Orange
This helical staircase's vibrant orange color scheme makes the ascent and descent enjoyable. It subtly gives the room's muted colors a burst of personality.
31. Perforated Staircase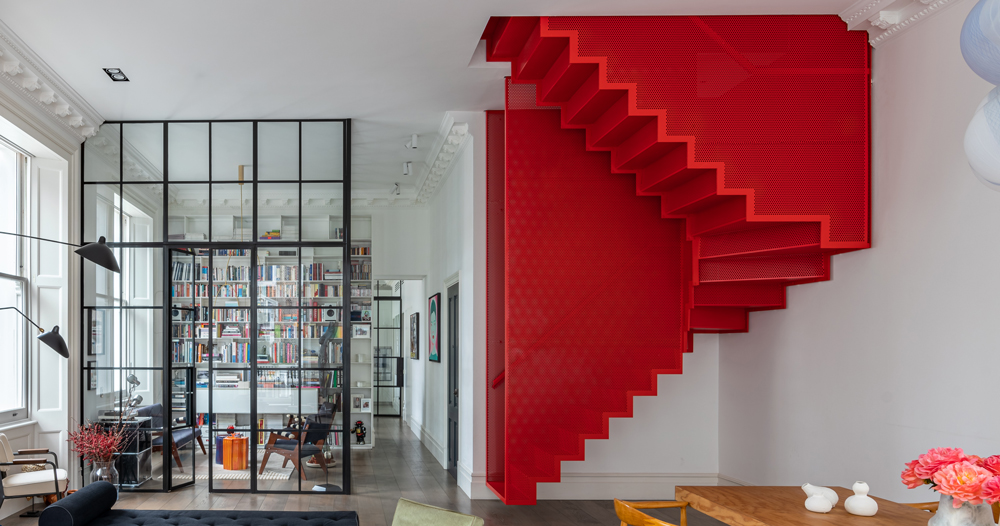 The perforated staircase makes a striking architectural statement, which gives the room character and liveliness. 
The cabin body's holes, which allow light to flow through, give the impression that they are hung from the ceiling.
32. Dramatic Centrepiece
This dining area's cascading stairway also serves as artwork. It creates a remarkable architectural feature and gives this large open-plan house a feeling of drama.