Last updated on February 16th, 2023 at 03:50 pm
There are lots of sales on high-quality items, from inexpensive buys under $50 to steep discounts on large appliances if you need a new coffee maker, blender, air fryer, or anything else to make your kitchen run more smoothly with these appliance package.
We don't just highlight sales based on price in this article. To ensure you save money and get a high-quality item that will serve you well in the long run.
The top offers on highly regarded small kitchen appliance deals can be found below.
Coffee Makers
K-Duo Plus 5200 from Keurig
The Keurig K-Duo Plus, as its name suggests, serves as both a single-serve K-Cup brewer and a drip coffee maker with a stainless steel carafe.
In both of our pod and drip tests, it performs admirably.
Some features include a multi position removable water reservoir, a drip tray that can be adjusted in height, auto-shutoff, and programming.
Why it's a great bargain:
Even though the price of this coffee maker is about lowest we've seen, it's still a fantastic deal compared to the usual $229 cost.
KCM1208DG by KitchenAid
Consider this KitchenAid KCM1208DG coffee maker if you adore the design of KitchenAid stand mixers.
This smart home small appliance has the recognizable all-around metal band from stand mixers and performs in a manner befitting its appearance.
A permanent filter, a detachable water reservoir, a cleaning indicator, an auto-shutoff, brew-strength control, and programming are just a few of its many features.
Why it's a great bargain:
With a current discount of $10 off the list price, this brewer outperforms devices that cost two times as much.
Optimal Brew BVMC-PSTX91 by Mr. Coffee
Consider this great deal on the Mr. Coffee Optimal Brew BVMC-PSTX91 if you're looking for a brewer with a thermal carafe.
Thermal carafes are more challenging to hold and pour from than glass ones, but this machine still handles reasonably well.
It is also straightforward to use, clean, and offers excellent brew performance.
Why it's a great bargain:
The cost increased by $10 from last week when it was at its lowest. Although there is still a good discount here, you should hold off and see if it decreases in price again.
Cold Brew Coffee Maker PBPBK-5101 by Primula Burke
In our rankings, the Primula Burke Cold Brew Coffee Maker is the best and most affordable cold brew coffee maker.
Most of its components are dishwasher-safe, including a glass carafe.
The only model that requires an entire 24-hour brew period, but the outcomes are worthwhile.
It is currently on sale for about $5 less than its regular $18 list price.
Given all the expensive Starbucks cold brews you won't be drinking, this coffee maker will pay for itself in no time.
Why it's a great bargain:
With a regular price of $18, this cold brew maker is already a cost-effective choice, and now you can save $4 on the Black, Blue, and Red models.
Keurig K-Elite K90
The Keurig K-Elite K90 is the best Keurig-branded pod brewer.
This Keurig makes up for its slightly slower first-cup brew speed with perfect temperature and size consistency (meaning you get the same amount of coffee in every brewed cup).
It also has many features with programming, auto-shutoff, an iced coffee brewing mode, a removable reservoir, and a height-adjustable drip tray.
Why it's a great bargain:
For this machine, the discount is modest. It was $30 cheaper over the holidays, but we anticipate seeing a significant value in the next major sale.
Read: Shop and Save: Best Online Deals Right Now
Air Fryer
Ninja AF 101
High marks in our evaluations were given to the Ninja AF101's electronic controls and programmed settings because they are among the simplest to see and use.
Cleaning the inside and outside of this model is relatively easy, and its measured capacity of 3 quarts is about average.
Remember that this model has a fan that is as loud as a countertop microwave and runs on the noisy side.
Why it's a great bargain:
It's a best time to buy because this is back down to just a few dollars above the lowest price we've ever seen.
Tilt & Rotate CKSTAF-TECO Oster DuraCeramic
This Oster model's particular tilt function rotates your food for you, eliminating the need for manual turns and promoting an even crisp.
Thanks to that feature, it already stands out from most of the other air fryers in our ratings.
Additionally, it has a measured capacity of 5 quarts, is dishwasher-safe, and receives excellent ratings across the board in all testing categories.
It is, therefore, perfect for families.
What makes it so great:
This air fryer with titanium infusion is still on sale with 33% discount.
Oster DiamondForce Non Stick XL 5 Quart Digital Air Fryer

Image courtesy of today.com
The Oster DiamondForce Nonstick XL 5 Quart Digital Air Fryer received a favorable rating in our controls test thanks to its user-friendly digital touchscreen and pre-programmed settings.
The inside and outside of this model are both easily cleanable and don't make much noise.
Despite the small appliances name, the basket can hold 3.6 quarts according to measurements.
This model has a one-year warranty, just like the other models we've examined.
Why it's a great bargain:
The price of this model has just dropped to the lowest level we have seen in weeks, thanks to Best Buy; it has already dropped to as low as $60 and may go even lower.
Read: 22 Best Tools Accessories For Modern Minimal Kitchen
Blenders
KZ750D All-Clad
Our soup purée tests are won by the All-Clad KZ750D, which excels at blending frozen fruit and yogurt for smoothies.
It has a 1-year warranty and operates at various speeds, including a turbo speed.
Why it's a great bargain:
Since All-Clad sales are uncommon, a 29% discount on this portable blender is worth looking at.
Blender Vitamix Immersion
The overall rating for this Vitamix immersion blender was only average, but if all you want to do is make smoothies, it's a good option.
It received a good rating for blending yogurt and fruit, but we have other blenders in our ratings that are masters at making soup and smoothies.
There are no accessories included, but it claims to have five speeds and two blades rather than one (which is said to help with crushing ice).
Why it's a great bargain:
It is the cost of the holiday sale. Although the Black Friday deal was better and closer to $100, you still saved 17%.
Vitamix 5200 blender
Our tests show that the top-rated Vitamix 5200 blender is excellent at making soup and smoothies.
It does well at crushing ice but only receives a passable rating for noise.
Vitamix as a brand received top marks for expected dependability and owner satisfaction.
Why it's a great bargain:
You are saving almost $100 compared to the typical price of this blender, which is closer to $480.
A2500 Vitamix Ascent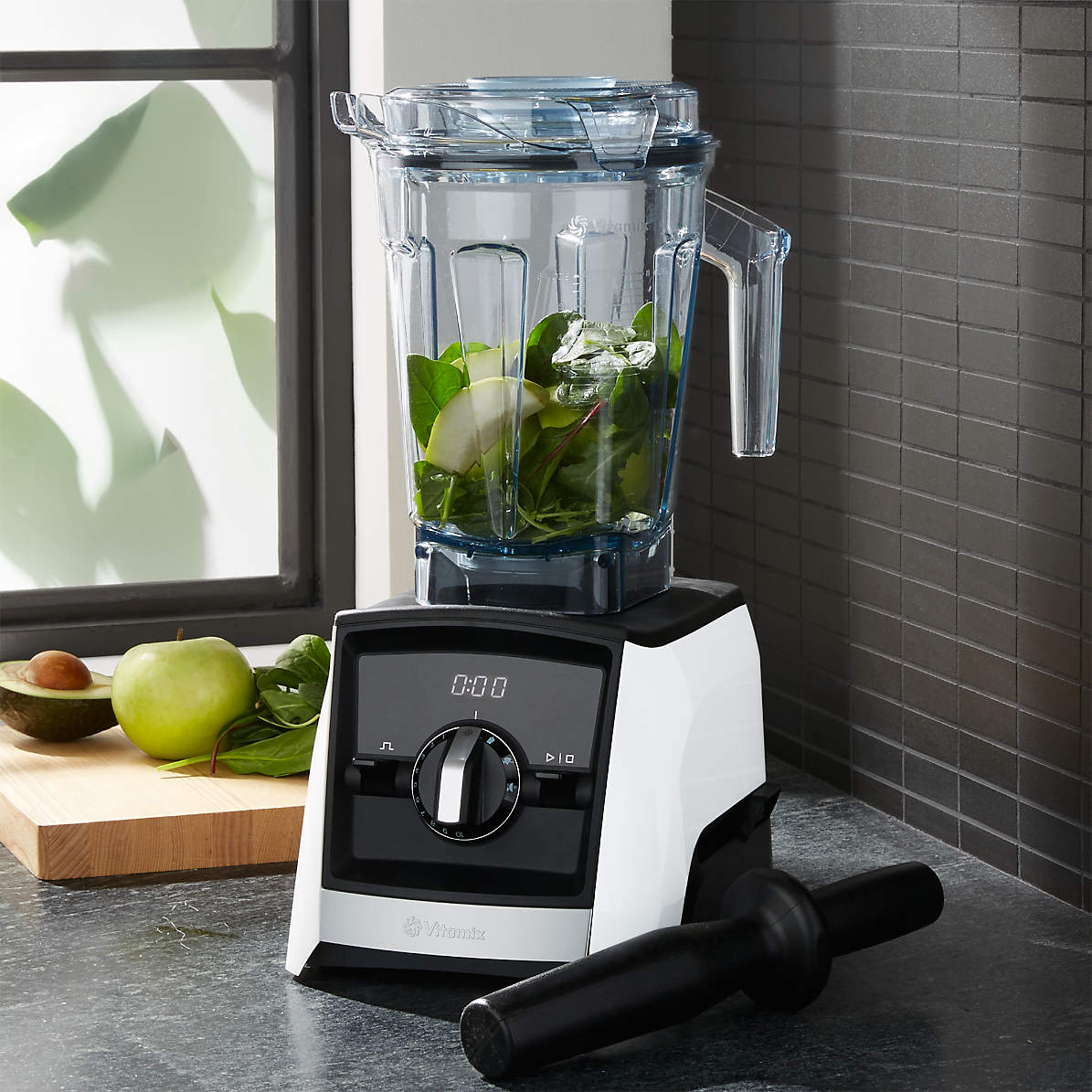 The Ascent A2500 is a top-of-the-line Vitamix blender that, despite not coming in first place in our rankings, can heat, chop, grind, blend, and emulsify with the best of them.
This model provides three flexible settings for frozen desserts, hot soups, and smoothies.
It adjusts recipes and eliminates any manual guesswork under the guidance of a digital timer, varying speeds, and a pulse feature.
Each program blends or purées the formula adapts to the size of your container and turns off when it is finished.
Thanks to wireless connectivity, you can pair the device with compatible self-detect containers and future innovations.
Why it's a great bargain:
The prime day sale price is $10 lower than the previous low.
Read: Amazon Fire TV amazing Discount Deals, Reviews and more
Food Processors and Choppers
KitchenAid KFP1318BM
Cheese, mushrooms, and onions are just a few of the ingredients that this 500-watt KitchenAid food processor can slice, dice, chop, shred, and purée in addition to other recipe essentials like carrots, peas, beans, and squash.
It has two speeds, lever controls, and a 13-cup capacity.
With an adjustable slicing blade and a separate shredding blade, this model has a silver base.
It has a 1-year warranty and is dishwasher-safe.
Why it's a great bargain:
Even though this model is still very affordable, the price recently dropped by $30, so you should hold off on purchasing until then.
Coffee Accouterments
Bodum Electric Bistro Coffee grinder, Burr
In all of our grind-performance tests, the Bodum Bistro Electric Burr Coffee Grinder performs admirably and excels at producing coarse grounds that are perfect for French-press and cold-brew coffee.
Despite having somewhat confusing controls and being one of the noisier grinders in our rankings, this model is also simple to clean.
The Bodum has a timer, an auto-stop function, and 12 grind settings.
Why it's a great bargain:
The black model's sale price was $10 less than the white model's, but it is still a significant saving.
Instant Milk Frother
The Instant Pot company is most commonly associated with its multi-cookware line, but it has also expanded into the production of coffee makers and frothers.
Its cost-effective Instant Milk Frother was one of the top models, providing performance nearly on par with that of the Nespresso Aeroccino4 milk frother, which costs more than twice as much.
The Instant Milk Frother's only drawback is that it cannot be cleaned in the dishwasher because its controls are integrated into the side of the carafe.
Even so, cleaning is still superficial; you must hand-wash it with a damp cloth.
Why it's a great bargain:
This household appliances discounted by about 30% from its list price.
To-Go Aerolatte Milk Frother
A handy handheld frother called the Aerolatte To-Go can froth up various hot and cold milk, including plant-based ones.
Although there is a slight learning curve because it is portable, we were able to get the hang of it very quickly.
Cleaning this Aerolatte is also a breeze; briefly submerge it in a cup of soapy water, remove it, and let it air dry.
Why it's a great bargain:
Its Black Friday price is once again in effect.
Read: 25-HOME launched 35% Off Sitewide Sale for 7 Days
Vacuum Sealing
E2900-MS Geryon
The Geryon E2900-MS is a relatively quiet vacuum sealer that receives high marks for dry-food sealing and speed.
Although it has no space for plastic rolls, it does have them for making bespoke bags.
The device has touch-sensitive control buttons, a hose, and an accessory port for vacuum-sealing containers with unique lids.
Why it's a great bargain:
Thanks to the on-page coupon, it is a few dollars cheaper than the previous low price.
BD8173 Black+Decker Premium
This Black+Decker vacuum sealer is a fantastic alternative.
It performs well for both speed and dry-food sealing and nearly as well for wet-food sealing (such as marinated foods).
Although it receives lower-than-average scores for noise, this is typical for the type of kitchen tool in question.
Why it's a great bargain:
With the current discount, this model—which initially costs $130 but usually sells for closer to $100—becomes even more alluring.