Last updated on April 3rd, 2023 at 05:52 pm
Preparing for a trip to the outdoors can be a confusing and overwhelming process. 
You know to cover the basics — pack a camping tent for shelter, a water purifier for hydration, and some dehydrated food that's easy to heat on the go — but what else do you need? 
You want to make sure you don't forget anything when packing for a camping or backpacking trip because, depending on the circumstances, it could mean the difference between life and death.
These are the critical camping gear you need for any excursion outside in 2023.
Top 12 Essential Camping Accessories for Any Trip
Victorinox Swiss Army Knife Multi-Tool
The Swiss Army Knife is still regarded as the ultimate multi-tool.
During a camping trip, you'll want to carry one of these small, high-quality tools in your pocket for tasks like clipping ropes, tightening screws, tweezing, measuring, and more.
Coleman Sundome Camping Tent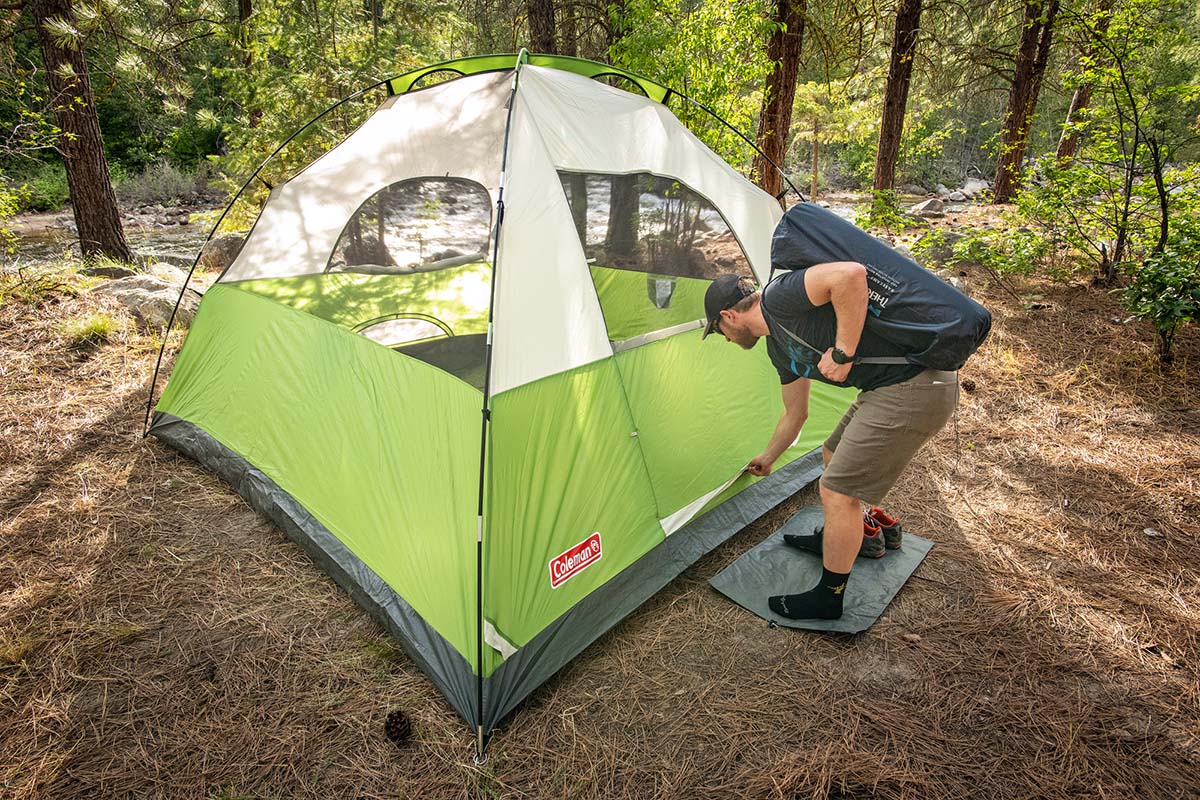 Coleman makes excellent tents for beginners who don't require or want anything too expensive or complicated. 
It only takes about 10 minutes to set up this tent, which has a solid central dome that can withstand winds of more than 35 miles per hour. 
The Weathertec system has welded floors and reinforced seams to keep you dry through rough weather, and it has large windows and a ground vent for proper ventilation.
Portable Gas Stove by Coleman
A gas burner can take tent dinners to the next level, and this one from Coleman is simple and engineered for the best efficiency. 
It has a cooking power of up to 10,000 total BTUs and is built with a pressure regulator for consistent heat even in rough conditions. 
The burner and base are separate for easy storage, and it has wind baffles to shield the burner when necessary.
Read: Portable Gas Stoves/Ovens Combos for Indoors – Camping Guide 2023
Men's Moisture Control Crew Socks by Dickies Dri-tech
Moisture-wicking wool socks are a must when hiking in any condition, especially when you might encounter more moisture than average, like snow camping. 
These Dickies socks include arch support and are constructed of breathable fibers with moisture-controlling characteristics. 
For improved comfort, ventilation channels have a reinforced heel and toe. They also help the airflow.
Marchway Dry Bag
In chilly, damp circumstances, when you need your gadgets, matches, or other supplies to remain moisture-free despite the weather, a dry bag may make all the difference. 
This one from Marchway has a roll-top enclosure, is made of a ripstop tarp, and is waterproof guaranteed. 
It's simple to open and shut and can even float on water after being rolled and tied, so your belongings should still be safe if you're rafting, kayaking, and turning over.
The North Face Men's Origins 86 Mountain Jacket
A warm jacket is essential when hiking, car camping, and especially when backpacking in the mountains. 
The American mountaineer Eric Perlman famously climbed all six "classic north faces of the Alps" while sporting this jacket from The North Face. 
It boasts a fully waterproof outside, a breathable inside, and a loose fit so you can move. 
To provide an additional defense against snow, rain, and wind gusts, the VISLON center front zip creates a tight seal and a double storm flap.
Read: 10 Best Tent For Motorcycle Camping | Top Rated Products for 2023
Camplight, LuminAID PackLite Max 2-in-1
This solar-powered LED camping lantern can up to 150 lumens and fully recharge in 12-14 hours of direct sunlight. 
It features a handy handle and is lightweight and foldable, making it excellent for car camping or hiking with the proper pack. 
It is entirely waterproof, resistant to dust, and unbreakable. You can even put your phone on top to give it more power.
MalloMe Marshmallow Roasting Sticks
The first bite of a delicious s'more after a day of exploring outside is tough to beat. 
These roasting sticks are composed of rust-free stainless steel that is safe for roasting and straightforward to clean, plus they pack up little. 
Each one features an easy-to-grasp, smooth-finished hardwood handle. When fully extended, they keep you 32 inches away from the fire, making them suitable for use by children.
Be sure you're permitted to have open flames at your location since not all National Parks or campgrounds allow fires.
Coleman Camping Chair
It is a folding camping chair for lounging around the fire, resting after a long trek, or enjoying tea in the cool morning air. 
This chair has side pockets, adjustable arm heights, and a built-in cooler that can cool up to four cans simultaneously. 
It folds up and unfolds effortlessly, and although it's not the tiniest and most compact form, it's simple to pack in the trunk for a vehicle camping vacation and may make sitting at your campground much more comfortable.
Read: Best Heavy Duty Camping Chairs – Buying Reviews 2023
Sabre Frontiersman Bear Spray
This bear spray from Sabre is of maximum strength and easy to fire in case of an emergency encounter with a bear. 
It has a 35-foot range, so you don't have to wait until the animal comes too near for it to be effective, and it has a belt holster, so it's simple to carry. 
Also, as the holster is not composed of Velcro, you may access your deterrent weapon covertly.
BearVault Bear Food Storage Canister
Keeping your food safe from bears while camping and backpacking are essential for your safety and theirs, and this canister is built to be bear-resistant but easy to open for humans with clear sides and a wide opening. 
It is designed to be lightweight so you can tuck it into your pack, and due to its substantial size and wide base, it can also be used as a camping stool.
Read: Top 5 Best RV Battery for Dry Camping – Buying Guide 2023
Protect Life Store First Aid Kit
This 100-piece first aid kit comes in a tiny, portable box that is lightweight and convenient to toss in your vehicle or backpack, and it contains a lot of shelf-stable equipment. 
It comes equipped with a tourniquet, bandages, a blanket, and a CPR mask. Because of its solid zippers and resilient seams, you may carry it on many journeys without worrying about damage.